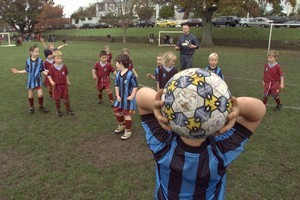 Saturday morning children's sport in the depths of winter - it used to be as Kiwi as pavlova, though a tad colder.
But sports organisations are being forced to tamper with tradition as parents reclaim the weekends and some areas struggle to manage a shortage of grounds.
A group of central Auckland football clubs are the latest to join the trend, switching games from Saturday mornings to Friday nights.
Some parents have reacted badly to the idea, pulling their kids out of the clubs involved - Western Springs, Central United, Metro, Ponsonby/Mt Albert and Lynn Avon United.
But a former All Black is warning they are fighting against the tide. Matthew Cooper, a star fullback for the All Blacks and Chiefs, is now the chief executive of Sport Waikato and says the move to weekday sport is "quite smart".
"Parents are prepared to support their kids' sport Monday to Friday, but they're buggered by Saturday," Cooper said.
"They want their weekend back.
"A lot of regional sports organisations are changing away from weekends."
His daughter, Grace Cooper, 9, plays school netball in Hamilton on a Thursday afternoon instead of a Saturday. "It's a nice environment," Cooper said. Canterbury had compulsory Wednesday afternoon sports sessions, he said.
There were other advantages too - cities with ground shortages could cope better and national funding body Sparc believed big corporates would support it.
Sports trusts were increasingly working with corporates, volunteering to train their staff to become sports coaches.
Allowing staff to finish work early for weekday training and games was an "ideal way to give something back to the community".
In Auckland, Western Springs manager Paul Rutland, whose club has 1200 juniors, said the shift to Friday increased the amount of time children faced on the field - games had grown from 25 to 50 minutes and the number of players on a team had dropped from seven to four.
It would mean fitter and more skilled children.
"Our committee decided to go ahead with it and the other clubs in the cluster followed."
Some games were moved to 5.30pm Friday and 17 junior players pulled out.
"Some were surprised. They said Friday evening didn't suit them and they couldn't get their children there at that time," Rutland said.
Cooper said it wouldn't suit everyone, but "people have to realise life has changed".
Operations manager for Auckland Rugby Union Matt McHardy said the changes were happening in the national game too. College Rifles in Remuera had been running junior rugby games on a Friday night for about three years and parents "loved it".
"They knock off work, their son or daughter plays rugby and the whole family have dinner at the club together."
He said many players and parents worked on Saturdays and sporting codes needed to "think outside the square" to increase numbers.
Saturday sleep in a bonus
Becky Woodall of Westmere, whose son Jake, 5, has just started playing football, says there are pros and cons to Friday football.
"It's tougher for working parents but it means you can sleep in on a Saturday.
"It'll change back to Saturday in a year and Jake doesn't know any other way."
Grant Steffek of Grey Lynn said he liked the idea because his son Te Kanawa, 4, wanted to play rugby as well and the change meant he could play football on Friday and rugby on Saturday.
And Theresa Alderson, whose son Nathan, 5, has just started playing with Western Springs, said it was nice to have her Saturday mornings back but it was "questionable" to have 5 and 6-year-olds out at night in winter.