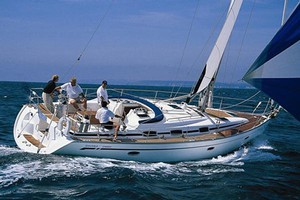 With the once-strong local production yacht building industry now but a distant memory, overseas marques have been quick to fill the gap.
One of the most successful of these has been the Bavaria range. Now in the capable hands of Bill Rutherford's Busfield Marine in Westhaven, the range has found a strong niche due largely to its combination of good sailing, value for money and long "as standard" list of features, most of which would be considered "optional extras" on other makes.
A good example of that winning combination is the company's latest model, the Bavaria Cruiser 36. Due to be unveiled here in a special open day on Westhaven's J Pier next weekend, the new 36 is a result of a collaboration between Farr Yacht Design and BMW Group DesignworksUSA, a subsidiary of the BMW Group.
Getting what is perhaps the most successful yacht design office of all time to combine in this way with one of the world's great automobile designers is surely a coup out of all proportion to the modest appearance of this family cruiser.
Yet what is even more remarkable is that this collaboration comes at such a modest price. The new Bavaria 36 will sell here for $275,000 including GST. Back when we built production sailing yachts here in Auckland (probably the best part of 20 years ago), one couldn't get a new 36 footer for that price and certainly not a boat with the features list that comes standard with this Bavaria 36.
For a start, the yacht is a three-cabin affair, which is pretty good in what is described as a performance sailing yacht of just 11.3 metres LOA. In addition, the 36 comes with a Volvo D1-30 engine, an electric windlass and a large bathing platform (which serves as a comfortable seat for the helmsman while closed and an easy-access-to-the-water platform when open).
What's more, once it is here in New Zealand, Busfield Marine adds a "Kiwi pack" to the 36 before offering it for sale. That pack includes a Fusion stereo system, an Icom VHF, a 3-blade Kiwi feathering propeller, a spray dodger, a bimini, lazy jacks and stack packs - all for that original $275,000.
When such boats first started making in-roads into the New Zealand market, local pundits decried their perceived lack of sailing ability. Many were considered "dogs": hopelessly slow and with a complete inability to climb to windward without sliding an almost equal distance to leeward.
However Bruce Farr's Annapolis-based Farr Yacht Design office hasn't produced any dogs that this writer is aware of and it would be a big surprise if the Bavaria 36 is the first. Indeed, all of the credentials look promising. For example, the yacht comes with a modern performance-orientated sail plan that features a 106 per cent genoa. This, combined with the main boom's optimal amidships' trimming, means it can deliver a close-hauled tacking angle of just 85 degrees.
Thanks, too, to the positioning of the winches, the 36 can be either as docile and easy to sail as a newcomer would wish or as sporty as a round-the-buoys racer demands.
Below decks, owners get the choice of the standard three-cabin layout or a two-cabin version. The latter is perhaps better suited to those who plan to cruise extensively: there is a large, forward-facing, stand-alone navigation corner as opposed to one consisting of a folding table and the use of a saloon bench seat.
Owners also get to choose from a range of interior designs including three types of wood and a variety of upholstery options.
The new Bavaria 36 will be on show at Busfield Marine's open day on the weekend of April 30-May 1. The open days will run from 9am until 4pm on Westhaven's J Pier. Also on show will be the Bavaria Cruiser 32, the Vision 40 and the Vision 44. There will be also be a complimentary barbecue serving (what else?) German sausages.
Bavaria Cruiser 36
LOA: 11.3 metres
Hull length: 10.9 metres
LWL: 9.9 metres
Beam: 3.67 metres
Draft: 1.95 metres (standard)
1.63 (optional)
Displacement: 7500kg (unladen)
Fuel capacity: 150 litres
Water capacity: 210 litres
Price: $275,000 (incl GST).