If all those Easter eggs aren't enough for you, Stephanie Everitt's new cookbook pays tribute to all things chocolate.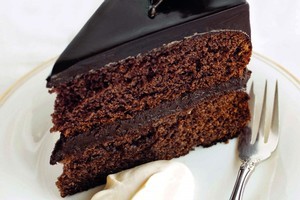 When Stephanie Everitt, owner of award-winning Devonport Chocolates for 12 years, created a little book about all things chocolate, she was determined to give us a deeper appreciation of the little brown bean that has seduced the world for more than 3000 years. So, sure, she tells us how to transform chocolate into cakes, spectacular decorations or soothing drinks.
But she also pays homage to the chocolate favourites of New Zealanders for the past 170 years, including the history of such local greats as Queen Anne, Whittaker's, Aulsebrooks and Heards, as well as international brands Cadbury and Nestle. To train your tastebuds, Stephanie shares her professional experience, showing us how to work with and look after chocolate. If you were intimidated by last week's gruelling MasterChef challenge, Stephanie has good achievable advice for tempering chocolate, creating glossy, smooth, rich truffles or a delicious chocolate cake dressed with chocolate leaves.
This weekend, when you're in danger of overdosing on chocolate eggs, Stephanie offers tips for a quiet contemplation of chocolate (and chocolate with wine) in tasting notes. Paired with a helpful list of the health benefits of chocolate, you can indulge with a clear conscience.
Speedy chocolate cake
We have used the following chocolate cake recipe since my son David, now 40, brought home a copy of the Belmont Intermediate School recipe book. As a result, the page in the book that this recipe is on is well decorated with chocolaty smears. The cake can be made in a saucepan and doesn't require creaming.
50 g butter
1 Tsp golden syrup (scant)
1 egg
100g sugar
1 cup flour
1 tsp baking powder
4 tsp cocoa
1 tsp baking soda
3/4 cup milk
1 Preheat the oven to 190C. Line the base and sides of an 18cm-round cake tin with baking paper.
2 Place the butter and golden syrup in a saucepan and heat gently.
3 Take off the heat and stir in the beaten egg and sugar. Beat well.
4 Sift in the flour, baking powder and cocoa, and lastly add the baking soda mixed into the milk. Gently stir to combine.
5 Pour the runny batter into the tin. Bake at 190C for about 30 minutes.
Topping: Depending on how elaborate you would like your presentation to be, use chocolate icing, or chocolate ganache (1 cup warmed cream added to 225g melted dark chocolate, with 1/4 cup of butter beaten until it is glossy and smooth).
Variations: Double the recipe for a double-layer chocolate cake.
Muffins: as for the above recipe except substitute 1/4 cup chopped hazelnuts for 1/4 cup of the flour. Fill half a muffin case with chocolate cake mix, place 1 tsp Nutella in the centre of each muffin, and then cover with the remaining mix till the muffin case is three-quarters full. Bake at 190C for about 20 minutes.
Be in to win
For the Love of Chocolate: A Kiwi Indulgence by Stephanie Everitt, published by David Bateman, $29.99. We have one copy to give away.
Email your contact details to life@nzherald.co.nz with "Love of Chocolate" in the subject line by Thursday April 28.