An Auckland family took care to cater for the tastes and needs of each member.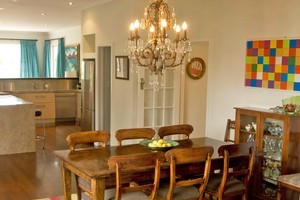 Fluent in the language of design, Kerry Aitken wanted to create a home in which the interests and passions of her family were allowed to "inform" the spaces.
The Greenhithe home the interior designer shares with husband Bob and their children, Isabella, 17, Dominic, 15, and Elliot, 13, is packed with memorabilia from the family's travels to India, as well as Aitken's art.
She's also keen on recycling; some of the furniture in the home has had two or three makeovers. "I'm not interested in buying something that will last only five years," she says. So that means no light-coloured fabrics or carpets that mark easily. "I call it looking after yourself, your community and the planet."
When the Aitkens bought the 1940s bungalow in 2008, it had already been extended to create two additional bedrooms and a second living area. It was set among established trees on a generous section, but lacked a cohesive look.
Being pragmatic renovators, the couple decided to work with what they had.
"The house had lots going for it - high studs, good quality matai floorboards - and it had already been opened up," Aitken says. This was a key consideration for her.
"I prefer to work within the footprint of a house, so we don't have to make structural changes as that's where the big costs are."
Moving the kitchen or bathroom was not an option but Aitken added a waterfall marble benchtop for a touch of luxury in the kitchen.
She has altered room uses to give a better flow, taking into account that a family with teenagers needs separate living spaces. What was a living room in the centre of the house is now a dining room with a chandelier over the dining table for a touch of opulence. Up a few steps from the dining room is a living area and a second living area opens to the rear deck.
With pale walls as a backdrop, colour accents are introduced in soft furnishings and accessories.
"We went to India and I fell in love with how people there used the most riotous colours together," Aitken says.
Tobacco wallpaper and raspberry velvet squabs in the window seats sit alongside peacock-blue silk drapes and green sofas in the main living room.
It's not just the colour that Aitken mixes up - the clean lines of mid-century pieces play well with a classic Louis XIV chair enveloped in a lush brocade.
The revamped home meets all the family's needs, while reflecting their style and personality.
As Aitken says, "It's all about knowing yourself and living well."
Style tips
Simple structure: Several key pieces are all you need for a memorable room - a distinctive rug, light-fitting or artwork will have a far greater impact than a room where everything matches.
Light work: Having dimmers on light switches is one of the easiest ways to create atmosphere.
Classic feel: Buy furniture that will last and has enduring good looks. Stay away from "the look of the moment" as it will soon appear dated.
Leanne Moore is the editor of Your Home & Garden. See the latest issue, on sale now, for more achievable home ideas.