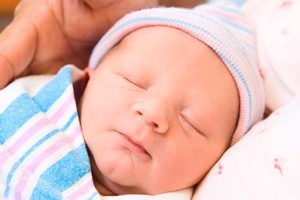 As of three weeks ago I've been back in deepest darkest newborn baby land with the arrival of Katie, my second little girl.
I'd forgotten about the nightmare of endless nappy changes and - worst of all - the frustrating and stressful exercise of getting them off to sleep.
In fact, I would rather carry a bag of stinky nappies around for a day and put up with the stink, and suffer the disdain of my fellow human beings, than try to get my wee Katie to sleep during one of her "unsettled" times.
But she's lovely and I would do anything for her so it's a case of suck it up big daddy.
While sometimes bedtime is easy and blissful; often it's akin to being tied to a rack while an evil little alien is let loose to torture you both physically and psychologically.
There's the shrieking, the guttural gurglings, and those unnerving silences that are always too good to be true.
But you have to take a few deep breathes, grin and cuddle them through it.
However when cuddling and treading the boards of the house - sometimes for hours on end - doesn't work, it calls for desperate measures. This is when parenting takes a turn for the ridiculous and you find yourself falling into those dangerous habits like rocking baby in the pram, taking them for a drive (which I have not resorted to yet), and tuning the radio to static or turning on the hair dryer (for some white noise) to soothe them. They might be unorthodox, and frowned upon by some, but they work.
While I might be moaning about all this, I have to say this parenting lark is so much easier second time round. Not to sound like one of those annoying know-it-all parents or anything, but it is. Thankfully.
While being a dad for the first time was wonderful, it was also full of worry, awful anxiety, and moments of desperation.
This time everything is easier, be it holding the baby, changing a nappy, or threading little limbs through the holes of those tiny jump suits.
Also, because my wife and I are being more relaxed we're not as worried about using any method possible to get her to sleep, which then means we can get some badly needed shut eye too.
And you know what? We'll deal with breaking her bad sleeping habits in a few months. Nigh nighs.