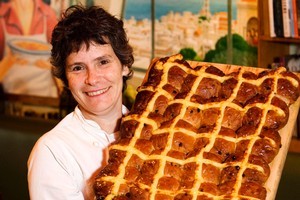 The Viva team has been busy tasting hot cross buns from far and wide to find our favourite. And after much deliberation, our vote goes to those created by Yael Schochat at Ima (57 Fort St, City, ph (09) 300 7252). If you want to order some, be quick - today is the last day to place orders for Easter. Yael has kindly shared her recipe exclusively with Viva readers.
Yael's Hot Cross Buns
Makes 24
1 Take 120g fresh yeast, 1 litre milk, 350g honey, 1700g flour and 350g soft butter.
2 Knead and then leave to rise for one hour in a warm spot.
3 Add 30g salt, plus 6g each of freshly ground cinnamon and nutmeg and 2g of freshly ground cloves.
4 Mix 800g currants and 2 cups of mixed peel.
5 For the cross, mix 130g cornflour, 150g sugar, 1 tsp salt and 5 eggs into a paste.
6 Bring to the boil 1 litre of milk and 1 vanilla bean (split and scraped), then add the paste with 70g of butter and cook while whisking till thick.
7 Bake the buns at 180C for 25 minutes, then brush with sugar syrup when out of the oven.
Cause for celebration
Devonport Chocolates has opened its third shop, this time in Queens Arcade, and like home-base in Devonport and the Ponsonby Rd store its chock-full of Easter treats, including dairy-free choices. Business owner Stephanie Everitt has also written a book For the Love of Chocolate selling in-store for $24.99 for those who want to indulge year-round.
Take the cake
Visit The Cake Stall in Royal Oak for gorgeous Easter treats like their simnel cake with marzipan, topped with 11 tiny coloured eggs representing the apostles, and wrapped in ribbon. They also make plump, spicy hand-crafted hot cross buns that are filled with currants and mixed peel and beautifully glazed. Both are delicious to share with friends or tuck into at home. 754 Manukau Rd, Royal Oak, ph (09) 625 1232.
Fair deal
It's good to see Cadbury putting out a Fairtrade-certified dairy milk Easter egg. The eggs are made in Dunedin but the cocoa is sourced from farmers in developing countries where Fairtrade ensures they get a fair and stable price plus additional premiums for investment in the local community. Another feel-good reason when it comes to eating chocolate!
A good cause
If digging into chocolate isn't on your agenda this Easter, an alternative treat is a Viva favourite, Kokako drinking chocolate. This is an organic Fairtrade product and it's oh-so-yummy on a cold day. Kokako is one of the sponsors of next month's Oxfam Biggest Coffee Break - an annual fundraising initiative to help those in poverty. To take part, you simply host your own coffee party.