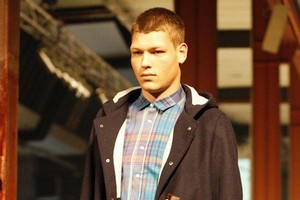 Huffer has a new menswear designer: recent AUT University fashion graduate Sam Hickey. His end of year collection of wearable menswear, presented at the AUT Rookie show last year, was a standout for Viva, so this combo is definitely one we will be keeping an eye on. Huffer's Steve Dunstan says he first became aware of Hickey's skill a while ago after seeing his brother, Noah Hickey, wearing one of his coats - and his collection at the Rookie show confirmed his talents. But though there is a new designer, don't expect a radical change. Says Dunstan, "We don't necessarily want to change our menswear, but to develop it. I think with Sam's attention to detail, tailoring and innovation, we should see our product improve".
Value added
Pandora's 20th anniversary charm - which featured in a reader giveaway in Viva last week - is worth $1149, not the $88 it was mistakenly valued at (due to confusion with another charm). So there's even more reason to be in to win the gold and diamond studded charm to add to your Pandora bracelet or start a collection.
We've extended the competition for another week, to enter email your name, address and contact phone number to vipviva@nzherald.co.nz with "Pandora" in the subject line. Entries close April 25, winner announced April 27.
Fashionable Sydney
Rosemount Australian Fashion Week is just a week away, with two New Zealand labels on the official schedule this year. Kate Sylvester will show her new spring/summer 2012 collection called Into the Light on Tuesday night, while Stolen Girlfriends Club presents a range called The Big Comedown next Thursday. Creative director Marc Moore explains that the range is inspired by the light and dark sides of love - being in the bubble of falling in love, then having the bubble burst when you fall out of love. Think dusty pinks and coral reds versus darker, angsty colours, and armour-style panelling throughout. "As we all know when falling in or out of love there is a barrier t we put up to protect ourselves from being hurt." They will also be debuting a special fabric print collaboration with fine artist Karl Maughan. "With Karl's work, everything appears to be picture-perfect. But you can always see something else, almost a darker, ominous side. I love that idea, and it inspired our collection."
New York in Newmarket
Recently in at Newmarket boutique Runway Shoes & Accessories are handbags and clothing from New York-based designer Diane von Furstenberg. DVF brown suede "Harper" day bag, $950, from Runway Shoes & Accessories, ph (09) 522 0808.
Art is dead
Very exciting art news: an exhibition of work from British artist Damien Hirst will be shown in Auckland this winter, at Auckland's Gow Langsford Gallery. Called The Dead and The Souls, the exhibition brings together pieces that have a more accessible price point than some of Hirst's more infamous works, continuing the artists' penchant for examining death, life, beauty and desire. The exhibition runs from July 20 to August 13.
A mini store
Superette is reopening its "Mini" outlet store, behind its Ponsonby boutique, with end-of-season stock, samples, one-offs and more. The store is open weekly from Thursday through Saturday, 10am-5pm - officially opening for business tomorrow, but open today from 10am for a special preview for Superette fans and Viva readers. Superette Mini, Shop 7, 282 Ponsonby Rd (entrance off Ponsonby Tce).
Shop at home
The future is online: local label A to E has launched its website, with a début winter 2011 collection available to buy exclusively online. Childhood friends Ann-Maree and Esther are behind the label, which focuses on simple New Zealand-made pieces.
Boots for all
Ezibuy is offering boots for women who haven't been able to find a pair that go over their calves. The wide-calf boots from the in-house label Sara come in a wide range of styles, with circumferences from 30cm to 53cm and include stylish riding boots.
All in the family
Aerin Lauder is launching her own beauty line, handily under the auspices of the company her grandmother Estee Lauder founded, where she serves as a director. She has formed an independently owned luxury lifestyle brand, Aerin LLC, but has struck a deal to exclusively distribute its cosmetics at selected Estee Lauder counters. No word yet on whether they'll make it here.
Aerin joined the family firm in 1992 and rose to become a senior vice-president. She reinvigorated her grandmother's Private Collection fragrance line and, with her Park Avenue princess style and home in the Hamptons, is a glossy magazine favourite. As well as running Aerin LLC, she will continue to front as Estee Lauder's global spokeswoman and take on new roles as creative consultant and style and image director.
Helping hand
The Body Shop's third annual Soft Hands Kind Heart fundraising campaign for the global fight against sex trafficking of children and teenagers is on now. Buy the chain's specially labelled $10 handcream and all profits from your purchase will go to Child Alert NZ, an organisation that raises awareness of child pornography, and prostitution and sex tourism and unsafe internet practice.
Greener hair
Matrix Biolage has reformulated its top-selling Hydratherapie salon range of haircare to make it paraben and silicone-free, with more eco-friendly packaging. The formulas work on dry, stressed hair to renew softness and shine. Given the range still contains SLS foaming agents, it won't please all ingredient list readers, but does show the direction even chemical-reliant haircare companies are moving in. L'Oreal Paris has gone sulphate and salt free in its new mid-range Ever Pure and Ever Strong haircare, saying the formulas, which are sold in department stores and pharmacies, are gentler on hair.
Same doesn't apply across the whole brand, but again it's a sure sign that consumer queries are having an impact.
Sweet tweet
It's been four years since Boh Runga launched her first jewellery collection with New Zealand Mint and while the multi-talented singer has fashioned other ranges, Birdland's chubby little native birds still sell strongly.
In time for Mother's Day she has launched an extension to the collection, with charms from $79 and hoop earrings at $179. From selected jewellery and gift stores or see here.