Hip publisher Jefferson Hack discussed the future of media in Melbourne - and Viva was there.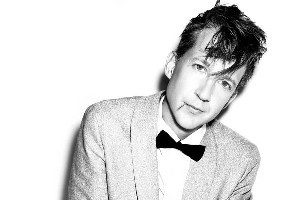 What does the coolest man in Britain do when he's in Melbourne? If you're Jefferson Hack, publisher of hip magazine titles Dazed and Confused and Another Magazine and the father of Kate Moss' child, you attend a menswear fashion show, do a touch of shopping, meet with a controversial local artist (Bill Henson), have dinner at a Japanese restaurant with a supermodel (Helena Christensen) ... and discuss new frontiers of publishing.
It was a journalist from The Observer who last year asked whether Hack was the coolest man in Britain, to which he responded that he was in fact the "ultimate magazine and editorial nerd".
I suspect that might actually be true. He may hang out with and date models, be hugged by former French Vogue editor Carine Roitfeld in the front row of fashion shows, wear skinny jeans and edit cool magazines, but at the L'Oreal Melbourne Fashion Festival last month, Hack sounded, well, just a touch nerdy.
He got excited about cakes (designer ones mind you, for the tenth birthday of Another Magazine), quoted sci-fi/cyber hero, and creator of the phrase "cyberspace", William Gibson, discussed things like digital technology, gamification and augmented reality, and confessed that his ultimate magazine title would be The National Geographic of Style and Culture.
All of this was part of Hack's talk at the LMFF Business Seminar, which featured guests including Acne chief executive Mikael Schiller, Bally creative director Graeme Fidler and Jorgen Andersson and Jan Nord, the creative and branding geniuses behind Sweden's H&M's wildly successful high-low designer collaborations (the pair are now at Esprit).
Hack's presentation focused on the future of publishing, and how the digital revolution has shaped the media, and branding, landscape.
"The means of content creation and distribution are open to all, and everyone is now media," he explained. "People are no longer being communicated to, they choose what they want to see, when they want to see it and how they want to see it."
Hack's own journey as a publisher has reflected the media's evolution. He started Dazed and Confused magazine with the photographer Rankin in the 1990s and has gone from being exclusively print to having content across various platforms, including DazedDigital.com. But despite the changes and hype over new technology, Hack says it is always about content, rather than the technology that tells the story. "Storytelling is central to human existence, and it's the foundation of memory, imagination and culture. This is true regardless of the medium.
"The very important factor for me is engagement, not escapism. Inspiring your audience to think for themselves is more powerful than merely distracting them."
So what is the future of publishing? Is print dead and the future online? These are questions everyone - those who work in the media and those who consume it - is asking. Hack himself says he gets asked about it a lot, but he believes that the beauty and poetry of print means it will stay.
"Much like going to a rock concert or a live event, a magazine becomes the souvenir of the experience. The experience is happening online, that's where the show is, that's the live event. The magazine becomes the collected memory, the artefact if you like. It becomes something you take away with you."
Hack doesn't pretend to have all the answers, so he asked "a real visionary", William Gibson, what he thought magazines would be like in 10 years time. Gibson's reply? Bookazines - a hybrid between magazines and books (think of arty, hardcover titles like Self Service, Twin and Grey); print on demand (being able to create your own unique copy of a magazine), and specialised, niche titles with targeted content.
Hack explains that though "some mainstream titles are suffering in terms of, you know, closing, or a massive reduction in readership, there is a booming niche industry with titles for a specialised audience being published".
There's also the idea that in 10 years media could be everywhere: Facebook, Twitter, on your phone - or as Hack says, hinting at a rock 'n' roll spirit, "in a drop of water ... or a drop of vodka".
Zoe Walker flew to the L'Oreal Melbourne Fashion Festival courtesy of Tourism Victoria and Pacific Blue, who offer daily flights from Auckland to Melbourne.