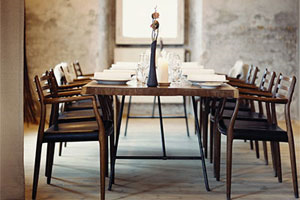 Reserving table at The Ledbury has never been all that easy, tucked away as it is in the warm wealthy bosom of Notting Hill, with its two Michelin stars and menu of French haute cuisine. It's now got a whole lot harder.
The restaurant, which showcases the work of the prodigious young Australian chef Brett Graham, is the highest new entry in this year's San Pellegrino World's 50 Best Restaurants, often described as the Oscars of the restaurant world.
At 34 on the list, only Heston Blumenthal's Fat Duck, at five, ranks higher in the UK. Two other British restaurants, London's St John and Hibiscus, make the list.
The latter was a new entry last year. Its chef, Claude Bosi, described the rush of business he received afterwards as "stupid".
"Bring it on," was Mr Graham's reaction yesterday.
"I like having a nice full restaurant. If people want to come, we're ready for it. I don't know how it'll make a massive amount of difference. I've just looked and we're already full on Thursday, Friday and Saturday for the next eight weeks, although you might get a 10 o'clock table."
Noma in Copenhagen topped the list for the second year in a row. On winning last year, chef Rene Redzepi said he received enough reservation requests overnight to fill the place for 15 years.
"I'm really pleased to be on the list at all," Mr Graham said.
"Last year I wasn't even invited to the event. I didn't go. I never thought we would get in the top hundred. We're a seven-day operation which makes it more difficult - I have to trust my staff. It's not just me, it's a team effort. My sous chef's been here six years, the manager four years. The kitchen porter's been here for five."
But don't expect Mr Graham to be joining the vast ranks of celebrity chefs any time soon.
Shortly after opening the Ledbury in 2005, Mr Graham said: "The best chefs in London aren't household names. They're not the bunch of dropkicks you see on Ready Steady Cook."
But he and The Ledbury did appear on Masterchef: The Professionals last November, which he said caused "eight phone lines to ring off the hook".
In the nine years since the list was started by the UK trade magazine Restaurant, a place on the 50 Best list has become one of the most sought-after honours for restaurateurs.
The list is often criticised for its focus on European and North American restaurants, and tends to focus more on innovative cooking than the Michelin Guide.
Only six of the 50 this year were completely new entries, one space being vacated by Ferran Adria's elBulli in Spain, which has topped the list four times but will close in July.
Astrid Y Gaston in Lima, Peru, is that country's first ever appearance on the list, having won praise for its haute cuisine including traditional cerviches and fish stews.
The only Australasian restaurant on this year's list is Sydney's Quay, which climbed one spot from its position at number 27 on last year's top 50 list.
The Top 10
2. El Celler de Can Roca, Girona, Spain
3. Mugaritz, San Sebastian, Spain
4. Osteria Francescana, Modena, Italy
5. The Fat Duck, Bray, Britain
6. Alinea, Chicago, United States
8. Arzak, San Sebastian, Spain
9. Le Chateaubriand, Paris France
10. Per Se, New York, United States
- INDEPENDENT