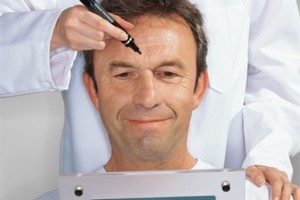 Why are more men than ever going under the knife when the results often look ridiculous?
Don't say we aren't living the egalitarian dream. Sooner or later, everything that starts out a luxury habit finds its street level, from Burberry and cocaine to ... facelifts (and for men, at that).
Yes, a procedure claiming to be Britain's first facelift that costs less than £1000 ($2060) has just been launched on to a market that has itself begun bulging in some unsightly directions.
There are the surgery junkies, of course. As of this month, the world record holder is 55-year-old Cindy Jackson, whose 52 procedures cost in excess of US$100,000 ($125,000). She's Ohio-born, but has made her home in Britain.
Then there are the backstreet Botox providers, which have seemingly begun popping up to cater for a trend made mainstream by the likes of Katie Price, who laid on jabs and lip-fillers at her last hen party.
Now, an increasing number of men are reportedly seeking out the scalpel to assuage their - wait for it - "mid-knife crises". The Harley Medical Group, which has been in the nip-and-tuck business for 27 years, and was last month accused of setting a woman's breast on fire, then trying to cover it up, reports a 54 per cent year-on-year rise in men over 50 having cosmetic surgery in London.
This same company is behind the "budget" facelift. At £999, it doesn't actually include "proper" surgery, but instead provides a four-week-long course of treatments such as Botox, Juvederm and microdermabrasion. The results last for 18 months and apparently mirror those of a traditional facelift, which costs up to 10 times as much. It's being pushed as a unisex product and one news report carried an interview with a former scaffolder named Darren, who raved about how 20 years of outdoor work had been erased from his features.
A scaffolder? The reality TV show is presumably already in the pipeline.
How we love to mock these habits when they hit the high street, but we lose sight of the fact that some of the most ridiculous fads - and the most decadently destructive - have filtered down from on high. Coke and cocktail-fuelled clubbing? The bright young things nailed it.
Celebrity-obsessed gossip? The socialites got there first.
Even as social - and gender - divides become harder to discern, we remain a culture that takes its cues from the top. It's just that, now, we seem only to be emulating the worst.
- OBSERVER