The best baking recipes by Maud Basham - aka Aunt Daisy- have been collated in a new cookbook.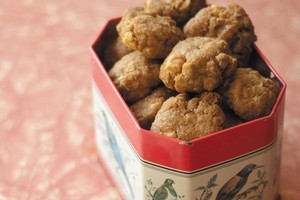 In today's flurry of cookbooks, food magazines and celebrity chefs, we can easily forget that once there was one - and one only - cook who ruled for New Zealand housewives. Maud Basham, known as Aunt Daisy, read her recipes over ZB airwaves with her memorable voice from the 1930s to the 1960s. She first appeared as a singer on 1ZB's Friendly Road, before launching her half-hour morning cooking show in 1936 and continuing, literally, until the week she died in June 1963, aged 84. Women all over the country eagerly waited by their wirelesses, pen and paper at the ready, to write down Aunt Daisy's latest recipe. As well as broadcasting, she wrote for the Weekly News and the Listener, and her thousands of tried recipes and handy hints were published in 10 cookery books and a hint book, as well as some of her favourite "scrapbook pieces".
Her late daughter Barbara Basham gathered 700 of her favourites into the Aunt Daisy Cookbook, first published in 1968. Aunt Daisy, bless her, assumed that all women would know what she meant when her instructions included "bake in the usual way" or "a very hot oven".
Her measurements used standard Kiwi breakfast cups or teacups (a breakfast cup is today's standard cup plus two tablespoons, a teacup is half of that). Her ingredients were plain, she never added cooking times (after all, her listeners could have been using anything from the ancient coal stove to the wonders of a modern electric appliance) and she assumed everyone would know the size of a standard loaf or square cake tin.
This new Aunt Daisy Baking Book gathers the best of her baking recipes, and proceeds will go to the Barbara Basham Medical Charitable Trust to fund world-class medical research in New Zealand. Aunt Daisy was a great one for comments beside her recipes, and her recipe titles have remained the same, with all their quirks. Before chocolate fever takes over, make a batch of her Anzac Biscuits to honour next weekend's holiday.
Anzac Biscuits
115g butter
1 Tbs golden syrup
1 tsp baking powder dissolved in 2 Tbs boiling water
1 cup sugar
1 cup coconut
1 cup wheatmeal
1 cup chopped walnuts
3/4 cup flour
1 Melt butter with the golden syrup.
2 Add baking powder. Add all other ingredients.
3 Take small teaspoonfuls and roll into balls.
4 Place on a cold oven sheet, leaving space between each.
5 Cook for 30 minutes in a slow oven (120C).
Be in to win
The Aunt Daisy Baking Book, edited by Barbara Basham, published by Hachette, $39.99. We have one copy to give away.
Email your contact details to life@nzherald.co.nz with "Aunt Daisy Baking Book" in the subject line by Wednesday April 20.