Viva chats to winemaker Axelle Araud of Moet & Chandon.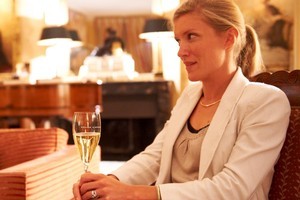 Last night at the Soul Bar and Bistro, guests gathered for an evening of fine food and Champagne. The VIP guest was the glamorous Axelle Araud who is part of the acclaimed Moet & Chandon winemaking team and is in New Zealand to launch the critically acclaimed Grand Vintage 2002.
Araud studied agronomy engineering and graduated with a degree in viticulture and winemaking in Montpelier, France. She joined Moet & Chandon last year and is a project manager for viticulture and oenology development in charge of the still red wines used for blending rose Champagnes.
When it comes to winemaking in Champagne, it appears to be something of a man's world. What is it like being a woman in the industry and as a woman what do you feel you bring to your role?
There are more and more women working in the wine business in general, even in France and Champagne. At Moet & Chandon, we now have 12 winemakers, including three women. I am the youngest of the team, joining last August. I think it is even more demanding to be a woman in a man's world, but it can be an advantage too. I don't know if woman are better at tasting wines ... but for sure we have different feelings and ways of tasting wines than men.
And I am sure having women in a winemaking team is an advantage, bringing more diversity of origins and experiences.
What are some of the exciting things going on in Champagne at present?
Springtime is a very exciting period of the year for a winemaker. The vineyard wakes up after a long and cold winter, and everybody is waiting to see what the new vintage will be like.
We are having a very early spring in France this year, and especially in Champagne, with nice, warm and sunny weather since mid-March. This is very unusual; I hope we won't have any late spring frost ... Will it be the beginning of a great vintage?
With Champagne being so sensitive to economic trends, how has Moet fared through the recent financial crisis - and are people starting to crack open more Champagne now times are getting better?
The Champagne region as a whole performed well in 2010, and Moet & Chandon had good results. We are optimistic for 2011, especially with the release of the Grand Vintage 2002 this year, a great vintage.
Describe your most memorable occasion drinking Moet?
There are too many, I can't pick only one of them. It may seem easy for me to say, living in Champagne and working in the Champagne business, but I firmly believe that you don't need a special occasion to open a bottle of Champagne, opening a bottle creates a special occasion by itself. My favourite moments drinking Moet are when sharing a bottle with friends or my family, for very simple occasions.
There are as many different kind of Champagnes in the Moet & Chandon range as occasions to drink Champagne; you can find one for any occasion any food pairing, be it Imperial, Rose or Grand Vintage...
I think Moet Imperial is our most versatile Champagne, and it is created for that. You can have it as an aperitif, at lunch, you can drink it with food at dinner, or you can enjoy it all night long ...
Anything you'd like to add?
You know that Moet & Chandon has always been part of great success and celebrations ... So this October, don't forget to celebrate the success of the Rugby World Cup with a big bottle of Moet. No matter whether the All Blacks or the XV de France wins ...