Address: Cnr Rawhiti Rd and Oranga Ave
Phone: (09) 589 1999
Web: epolitos.co.nz
Cuisine: New York-style pizza
Rating: 7.5/10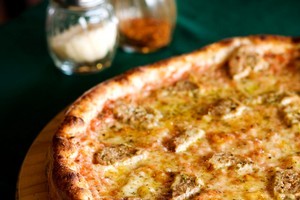 Is it just me or has pizza begun to take over the world as the most common snack food? A month just spent travelling in China, Malaysia and Vietnam was proof of the globalisation of this Italian staple, albeit that many incarnations we encountered were barely recognisable (banana and condensed milk topping anyone?).
The problem is that pizza making is an art form and too many renditions seem to be merely cheese wheels masquerading as pizza. When I want to eat pizza, I want the real thing - a hand-built base, crispy and tender with a soft, chewy border, charred in all the right places, with a scattering of toppings that don't outshine the base, cooked at a fiercely high temperature.
Whether it's authentic Italian or New York-style I don't mind, as long as it's made with love, skill and good-quality ingredients. If that sounds like a bit of you, then read on.
When I heard the news that Epolito's in One Tree Hill had won yet another award for pizza, this time when owner and pizza chef Chicklena Rose entered her "East Side" vegetarian creation in the Global Pizza Challenge in Auckland last month, I wasn't surprised.
I can't count the number of people I know who rate this pizza joint as the best in Auckland and who think nothing of trekking across town to satisfy their craving.
"Chicky", as she's known to her regulars, has been turning out true New York-style pizza since she set up in Oranga (near One Tree Hill) in 2005. I had to use a road map but in the end it was easy to find and, even better, there was plenty of parking right outside.
The look and feel of Epolito's screams "local". With its small, wooden, fairy-lit interior you'd have to say the place is more geared towards the take-out business, but we liked it as a sit-in option. Crammed and cosy, conversations start up between tables of strangers as shakers of chilli flakes and parmesan (freshly grated) are handed around, and before you know it, you feel like a regular.
The menu is basic, with the pizzas all offered in 10, 14 and 18-inch sizes. Given that each is hand-thrown they're a steal at $16, $22 and $32.
Settled in with our ice-cold cokes (they're unlicensed) the wafts of freshly baked pizza drove us wild with hunger so we wasted no time putting our order in.
Let's start with the two classics we'd ordered - the meatball and Sicilian sausage.
The foundation of both, the bases, were done in perfect New York-style. I know that debate rages over what makes "a perfect New York-style pizza" but the argument I ascribe to is the one that claims it was designed with its thin base crisp in the middle and a soft, puffed-up, chewy crust, to be ideal for cab drivers, travellers and other busy city types to fold and hold, making for a no-fuss snack that's easy to eat on the run. These were exactly that.
The toppings were equally impressive; a smear of fragrant, zesty tomato sauce on each, mozzarella cheese (a bit too much in both cases) and the meats, both of which are home-made. The pork sausage (100 per cent New Zealand pork) bore the hallmark of any decent traditional Sicilian sausage - fennel seeds - and was sweet and spicy while the meatballs, from Chicky's family recipe, were divinely tender and moist.
For our third pizza we chose the Brooklyn Pie which was more of the sausage plus black olives and parmesan (blue cheese is usually used but they'd run out on the night we visited).
The parmesan was punchy and complemented the other flavours nicely, and this was voted our favourite of the night.
Four years ago it was a big deal for Chicky to be hand-stretching 30 pizza bases a night. Now it's quadruple that on a busy night and we could see why. As we dined there was a constant stream of happy customers calling in for takeouts.
There's nothing flash or brash about Epolito's and some might consider it too limited as a dine-in option due to its seating and licensing restrictions.
My advice is to make a booking and enjoy being booze-free for a night (good for the wallet) or join the masses and order takeout.
Either way, pizza in Auckland doesn't come much better than this.
From the menu: Classic Sausage (Homemade Sicilian) 10" $16, Classic Meatball 10" $16, Gourmet Brooklyn Pie 10" $18.
Drinks: Unlicensed.