Sara Hughes, who is taking part in The Living Room project in central Auckland, shares some of her favourite things.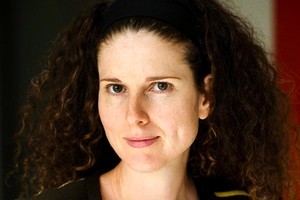 Auckland's inner city has been taken over by art as part of The Living Room 2011, an annual public art event that features installations, video projections, street art and more.
Sara Hughes is one of four artists taking part in the Poster Project, which looks at the power and communication of inner city street poster campaigns. The project aims to reclaim these commercial sites as cultural space, with Hughes' ever-changing installation drawing inspiration from a 1971 council booklet that proposed a utopian new vision for the CBD. Her work looks at the idea of digital maps and apps competing with the physical experience of finding your way around a city, and can be found on the corner of Mayoral Dr and Rutland St until April 17.
Hughes, who is primarily a painter but also works with installations, tells us what inspires her and about some of her treasures.
10 FAVOURITE THINGS
1. Embroidered paisley shawl
I bought this in Mumbai when travelling in India in 2002. It was the starting point for a long investigation into the paisley pattern - its origins and the trade and migration of the pattern, which had a strong influence in my work in 2003 and 2004.
2. Book on Joseph Churchward by David Bennewith
This book presents an overview of the work of New Zealand designer Joseph Churchward. It is stunning both for Churchward's typography and for the book design by David Bennewith. Using multiple paper stocks and printing techniques it is a labour of love, with only 500 copies printed.
3. Embroidered pillow
Cross-stitched by my grandmother Jocelyn Allison; she made this for me in response to paintings I was doing in 2004 that utilised iterating squares. It sits on our bed and reminds me of her every day.
4. Agnes Martin's paintings
Particularly the room of her works at the Dia Art Foundation in New York. There is an initial serenity created by the muted colours when you enter the room, but the more time you spend with the work the greater is the intensity of emotion. She is an inspiration, living from 1912-2004 and working till she was in her 90s.
5. The Hirshhorn Museum, Washington DC
My favourite museum/art gallery designed by the architect Gordon Bunshaft and completed in 1974. The building takes the form of an open cylinder; I love the seamless sensation of this circular building and how it allows viewers to experience the artworks. It also has a fantastic programme that creates a dialogue between the bequeathed personal collection of Joseph Hirshhorn and current contemporary art.
6. Zebrette jug
Zebrette ceramics were made by Lancaster and Sandland in the mid-50s-early-60s; this jug has the distinctive hand-painted black and white pattern that is typical of the range. I bought this piece from an opshop when I was 18 and it spent a lot of time packed away in my parents' basement. I love its bold design.
7. Vanish by Gregor Kregar
A permanent installation of 160 ceramic figures by artist Gregor Kregar, commissioned by Connells Bay Sculpture Park at Waiheke in 2008; depicting shrinking self-portraits of the artist dressed in colourful overalls. I love how this work appears in the landscape and the way it questions the nature of humanity and the artist's role in society. Gregor is my husband and I spent two years watching this complex project evolve.
8. Butterfly chair by Peter Madden
We are lucky to own this early work by Peter Madden, created when he was at Elam School of Fine Arts. I love the obsessive and fragile nature of his collages and the way his work is layered with multiple references and meaning, from Dadaist uprising to baroque sensibilities.
9. Gestalten Publishing
Founded in Berlin in 1995, I love how this publishing house specialises in books on art, design and architecture, often looking at the inter-relationships between these disciplines. They create exciting books on contemporary visual culture, combining well-known practitioners with those just emerging.
10. Colour
There is something very elusive about colour. It has the physical possibility to make your heart beat faster and to seduce the eye and it has the ability to manipulate, insult and inspire national uprising. As an artist I am constantly questioning colour's relationship with the emotional and the rational and the scientific and the magical - its multiplicity gives me much to work with.