An expert explains how hair damage can be treated.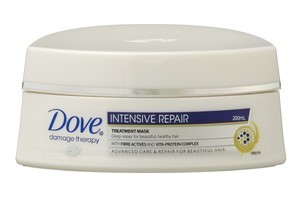 Look closely and be afraid, very afraid, about hair health. That's what trichologist David Salinger does for a living.
Overdoing the use of colour and heat styling tools is leaving more and more women with wrecked hair - in some cases so weakened it can only snap off. Salinger sees this sort of thing every day - as well as the effects of serious medical conditions - when desperate women consult the Adelaide-based specialist in hair and scalp health about recovering their former glory.
Although hair is technically dead, much can be done to make both its surface appearance and the fibrous cortex at its heart hang together better.
"Hair can't change itself, but we can change it," says Salinger, citing processes such as perming and straightening. These work by breaking down the hair's internal bonds and chemically rearranging them.
Topical products can help by feeding other cross links into the hair to compensate for weakness in its bonds.
Therefore, using a treatment mask at home can help maintain and improve hair condition.
Salinger says bleaching and multiple colouring processing are especially hard on hair. Women should try to ward off damage by colouring carefully and taking care that heat tools are kept moving and aren't too hot, and that a heat protectant product is used during styling.
The comments came when Salinger made a quick trip to Auckland where he spoke about hair health at a product launch for Dove hair masks. Dove says treatments are the fastest growing sector of the hair market. With women unlikely to abandon colouring or styling it is no surprise they are experimenting with differing ways to treat it.
Salinger snipped off a few strands of my hair and popped them under the microscope. Seems my lack of blow-drying has paid dividends, for the strands were in good nick. If my hair was very damaged, both the colour of it under his microscope and its composition would reveal weakness.
Hair with raised surface cuticles is rough and dry to the touch. This superficial damage can be smoothed with conditioners. Because raised hair cuticles can be caused by over-vigorous towelling after washing, excess water should be squeezed out and down, rather than hair rubbed against the cuticle.
When hair is seriously damaged, it shows up, under magnification, as having a shredded-looking or chaotic internal structure.
At its best, protein-rich hair is as strong as nails and similarly slow to breakdown.
Salinger says some women with a genetic predisposition do suffer from thinning hair as they age, but there is no reason most women cannot continue to have healthy looking hair. Notwithstanding that, he says cases of younger women reporting hair loss and scalp sensitivity are on the increase.
To work out the cause, Salinger considers recognised conditions and hidden illnesses, but also factors in variables like diet, stress levels, exposure to chemicals and the use of hormonal contraceptives.
Treatment can range from holistic lifestyle adjustments to the prescription of topical and oral drugs.
Product picks: Treatment masks are best used weekly. At-home masks are often less intensive than salon treatments. Here are a few options: Matrix Biolage Hydratherapie Aqua Immersion Creme Masque for dry/very dry hair $30; Dove Damage Therapy Intensive Repair Treatment Mask $8.17; Moroccan Oil Intense Hydrating Mask, $55; Goldwell Dualsenses Rich Repair 60 sec treatment $24.50.
Play it again
Another New Zealand Hairdresser of the Year title will be decided from four stylists just announced to compete at Sydney's Hair Expo. The finalists, all from Auckland, are: Danny Pato from d&m Hair Design, Ponsonby Sara Allsop and Jock Robson, both from Dharma salon in Mt Eden; and two-time winner Mana Dave from Blaze, Newmarket.
Hair Expo, sponsored by Schwarzkopf Professional, will be held in June. It differs from the industry's two other big competitions, the L'Oreal Colour Trophy and Wella Trend Vision, in that it pits New Zealanders against Australians - except for the separate national Hairdresser of the Year titles.
Competing against allcomers as a finalist in the apprentice/student of the year section is Dharma's Joshua Angell. Invercargill salon Venom is in the running for a design award, and Servilles Academy is again up for Education Organisation of the Year, a title it won last year, when founder Paul Serville became the first New Zealander in the Expo's Hall of Fame.
It was also a good result for Servilles at the L'Oreal Colour Trophy Awards in Auckland on April 2. Takapuna branch stylist Armie Aninion Avillanosa was named Hairdresser of the Year, as reported in the Herald last week. Adding to that, Albany staffer Janic Leech was runner up and her salon pronounced the best. The Next Generation Award - for a stylist with five years or less experience - went to Jamie Hoogduin from Venom in Invercargill, and the Men's Colour Award was presented to Paul Hala from Hala Hair in Auckland.
The third Hairdresser of the Year title will be decided at Trend Vision in August, with the winner going to Paris to compete. Hair Expo finalist Dave is the current titleholder, illustrating how all three titles are hotly contested across the industry.