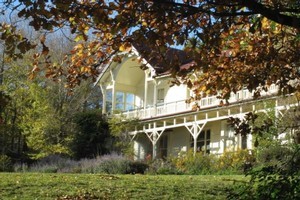 The Weleda Healthcare Centre offers a unique environment to experience a treatment. The Swiss company has long had its own biodynamic farm in Havelock North and attached to this is the centre where holistic rhythmical body oiling can be booked. The Weleda approach is to use natural plant materials and hydrotherapy to suit the skin and wellbeing needs of individual clients after a consultation. Hour-long treatments cost $65. For details of the centre at 302 Te Mata Rd, ph (06) 877-8710 or email nurses@weleda.co.nz
New names
Two new names you're bound to notice have popped up in the competitive beauty market. Both reckon their research-led approach in identifying what customers want will pay dividends. The new Vivo hair and beauty chain and the first Nature's Presence store have débuted in Auckland, each with ambitious plans to expand. Both are targeting time-pressed women who want a straightforward service.
Vivo has six salons across the city so far, and is aiming for 15. The group is the brainchild of two businessmen who have been buying existing salons, in some cases leaving management in place, but introducing a common approach with branding and marketing. They believe there is still room for growth in the use of mainstream beauty services and that too many providers are too pricey, making going to a spa an occasional rather than regular indulgence. Vivo will concentrate on providing a good range of basic treatments affordably.
Nature's Presence has opened what it hopes will be the first of six salons this year. This beauty store/salon combines retail sales of natural products with a range of treatments, from waxing and manicures to facials, microdermabrasion and IPL laser.
The flagship store opened this month in Westfield Shore City at Takapuna. Sites in other malls and near gyms are under consideration because of their convenience to women.
The company behind Nature's Presence is Configure Ltd, which franchises women's gyms. Manager Christine Casey said its point of difference, aside from the business model, was that it stocked only authentically natural skincare, including Living Nature and Jurlique. "There's no one else doing anything 100 per cent naturally." Cosmetics, candles, and gift items from the likes of Nellie Tier are also on the shelves.
New faces
The arrival of Vivo and Nature's Presence means women can more easily experience facials from two of this country's leading skincare companies. Until now if you wanted to try a Living Nature facial you would have had to have gone to the company's headquarters just out of Kerikeri. Viva has visited and recommends you stop in on your next holiday up north, but if you're stuck in Auckland, Nature's Presence now offers Living Nature facials, including the use of its hydrating honey mask.
To experience an Evolu facial, a trip to the luxury resorts at Kauri Cliffs or Cape Kidnappers would have been your only choice until recently. Now, Kati Kasza's company has struck a deal with the Vivo group to deliver her well-priced facials.
Soak and save
Polynesian Spa's careful use of its thermal waters has won it an official tourism environmental award. The Qualmark Enviro Gold Award recognises the spa's energy efficiency, waste management and water conservation. It has a system which sanitises used hot mineral water, allowing it to be reheated geothermally and reused.
Crazy crackle
The Katy Perry Collection by O.P.I has arrived in store, twinned with Shatter Black a topcoat garnering plenty of attention in the ever-wackier world of nail finishes. The idea is that Shatter Black goes over a bright lacquer, leaving an interesting crackled effect. Publicity shots show it leaving an almost leopard-like pattern, but when Viva tried it out, the effect was more akin to scribbling a felt tip on your nails and finding half of it had evaporated unevenly. But if the punk princess look is what you're after, try Shatter Black over the mid-blue or pale pink glitters, named Katy Perry-style, Last Friday Night and Teenage Dream. Each costs $24.90.
More shades
Shellac, the hybrid gel-polish that truly dries before you leave the nail spa and lasts two weeks without chipping, has finally added to its limited colour selection. Now there's another dozen shades to choose from. A Shellac manicure costs $45-$65 depending on location. For your nearest salon offering applications, visit the Shellac salon locator here.
Shaken and scented
Gifts with a purchase are a real sales driver for women's beauty products and now the boys are getting a taste of the action. This month Jean Paul Gaultier's popular Le Male fragrance comes packaged in a bonus chrome cocktail shaker (and, yes, the label is removable). The limited edition deal houses a 125ml bottle of Le Male for $149, from selected Farmers and Life Pharmacy stores.
Bonus time
Extra items of makeup or skincare to sample are a usual bonus deal, but some companies are trying to lure customers more creatively. Here are a few of the temptingly unusual gift-with-purchase offers out there at the moment. Moisture Mist customers spending $47 or more may choose between a smart black or pale blue pashmina-style scarf. Shoppers buying any three L'Oreal Professionnel Series Expert haircare products will get a quality set of makeup brushes valued at $59.99, while stocks last. Sebastian Professional is offering its Volupt shampoo and conditioner and Thickey Foam as a bulk lot for $98 with a bonus Ministry of Sound CD, so create your style at home to the sounds of a salon.