Designer Charlie Brown has brought a touch of Sydney style to Auckland.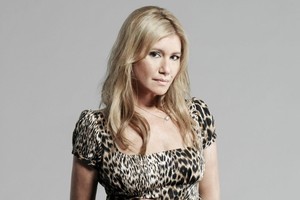 Charlie Brown's story reads a little bit like something out of a Jackie Collins' novel - a business once on the verge of bankruptcy, various high-profile celebrity models, finding new love, numerous appearances in the gossip pages, a $2 million home renovation, the discovery of a brain tumour ... all set to a backdrop of leopard print.
Brown is the face behind the Australian brand Charlie Brown, launched in 1995 and known for its playful use of prints and wearable take on glamour. She is part of the established Australian fashion set, famous for that unique blend of glam showiness - think dresses that are perfect for the races, an A-list bash or the red carpet. Celebrity has also become part of the Charlie Brown DNA - in the past Brown has worked with impressive array of celebrity models, including Cathy Freeman, Sophie Dahl, Jade Jagger, Jerry Hall and Nicky Hilton - all women who sum up the high-voltage glamour factor of the brand.
"I love working with colour and prints - I don't like living with prints and colour, but I enjoy shopping for it, creating and working with it. I probably have a reputation now as a person who does prints, and clothes that actually fit women.
It's got sex appeal," Brown explains.
Born in America, she began her fashion career in the early 80s when she worked with Esprit, before moving to Australia in 1985 where she worked for a company called Howard Showers (her life and business partner Danny Avidan bought the company in 2000, and it recently collaborated on a collection with expat New Zealander Charlotte Dawson).
Brown and Avidan visited New Zealand last week to help launch and open a concession store within Smith & Caughey's, the first time a full selection from the Charlie Brown brand has been available in New Zealand (in Wellington the brand is in Kirkcaldie & Stains).
"It's exciting, Smith & Caughey's is obviously a very established department store and I'm very proud to be in it - I'm glad that they welcomed me," says Brown.
Each Charlie Brown boutique or concession store is different, because, as Brown explains, "Fashion changes, and I think it's exciting for people to go into a different environment every time".
The space in Smith & Caughey's is light and airy, with white floors, large windows and "a bit of a French feel", sitting alongside other brands including Max Mara, Trelise Cooper and Paula Ryan.
Brown explains that it's about fitting in with the store's peaceful old world environment and "trying not to be too obnoxious - I wasn't going to come in here with leopard!" There is some leopard print of course, in the form of trench coats, body-hugging dresses and studded jeans.
The print may be everywhere right now, but Brown has been doing leopard for years. She describes the winter collection that's available in-store now as dark and seductive, with former Miss Universe Australia Laura Dundovic featuring in the campaign, photographed by Simon Upton and styled by New Zealand expat Kelvin Harries.
The campaign also gives a very small peek into Brown's Sydney home (her dog also makes an appearance in the images), which was given the aforementioned $2 million renovation. She lives with Avidan in a glamorous home that has been featured in the New York Times, with a large pool, all-black lounge room, an all-white dining room and a garage lined in leopard print.
She says that their life is essentially all about work - "Because we [Danny and I] work together, it is a 24-hour thing - if we're going to go overseas it's a little bit about work, if we're going to go to the races, it's a little bit about work, if we're out for dinner, it's about work" - although they did recently visit Cuba, where there was nothing else to do except relax and drink cocktails.
Brown is vivacious - a fast talker with a booming laugh, joking that a career highlight is going to be retirement.
"No seriously, there are lots [of highlights] in the business: when you create a range, when you do a great shoot, when you see lots of people wearing your clothes. I like to make everything a highlight."
* Charlie Brown will be holding a meet and greet at Smith & Caughey's on May 13.