The annual Dunedin Fashion Week continues to stimulate and inspire.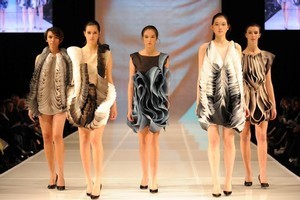 Attending Dunedin iD Fashion Week always feels like the official "fashion" launch of winter, because, well, it is really, really cold. So while it may still be too balmy for tights in Auckland, in Dunedin, some locals are wearing three pairs to ward off the chill.
The annual fashion event that has a focus towards the consumer rather than the industry was held in the chilly city last week, with the Emerging Designer Awards on Thursday night showcasing a great line-up of young talent.
There was a much more commercial bent than previous years - less of the token student wackiness and more creative pieces that could go on to be sold.
The winner was Australian Kate Bolzonello who charmed the audience with a collection inspired by photographer Sarah Moon's images of clouds and her own nana chic outfit (full floral skirt, Comme Play cardigan, pink spectacles and messy hair).
There were some stunners in the audience too; one young girl colour blocking in a bright yellow lace midi-length dress and pink jacket, and the elegant Charlotte Smith, who inherited The Darnell Collection of incredible vintage couture, visiting from Australia to showcase some of her pieces as part of the week.
She wore a stunning blue velvet dress from the 1930s with billowing sleeves, and told me that earlier that day she had bought two dresses she planned to wear to take her runway bow from The Modern Miss - which she considered one of the best vintage stores she had visited.
A great compliment coming from someone whose collection features more than 5000 pieces of high-end vintage from the likes of Chanel and Dior.
The next morning I headed to the Dunedin Library, home to a beautiful local fashion treasure: a box of Vogue New Zealand magazines, published between 1965 and 1968.
They are very special, a memento of our fashion history - from the beautiful El Jay advertisements to young up-and-coming New Zealanders in "dashing sports clothes" (including a teenage Kiri Te Kanawa) to the People Are Talking About column (according to Vogue, in the summer of 1965 everyone was talking about the opening of the Mangere airport and Marie Thomas' new hats for Air New Zealand air hostesses, worn with the TEAL by Dior uniform). Another sample story? Hard Liquor for Weak Women, which opened with the killer line, "Many women assume that mixing drinks is a masculine art - but if you can make a mousse, you can mix a martini".
Friday evening was the iD Fashion Show, held in the beautiful historic railway station. It's a popular and unique show, with trains rumbling past and chilly winds barrelling down the 110m-long catwalk.
Australian designer Akira Isogawa showed some beautifully crafted pieces from his recent collection, alongside a selection of pieces from Charlotte Smith's vintage collection and collections from local designers like Twenty-seven Names, Carlson, Nom*D, Charmaine Reveley, Kathryn Wilson and Liz Mitchell.
It was particularly exciting to see some of the younger labels on the runway too, those who are adding a fresh new take on the signature Dunedin dark aesthetic and continuing to make the city relevant in the way of fashion - joyful colour from knitwear label Lou and Ash, and Otago Polytech fashion graduate Vaughan Geeson's take on sophistication, while the brooding look is interpreted by young labels like Lela Jacobs, Maaike and Company of Strangers.
Great too to see the community spirit that the show, and the week in general, creates; something that seems lacking in similar events closer to home.
Isogawa's talk at the Dunedin Art Gallery on Thursday morning summed up the popularity of the week and the way the town gets behind it all: it was so packed that he agreed to repeat the talk straight after for those who couldn't fit in the first time.