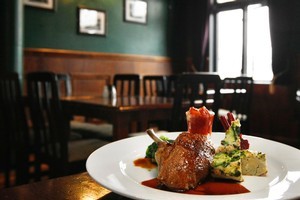 After a recent visit to a substandard and unreviewable suburban restaurant in the neighbourhood we were a little anxious as we approached the Clare Inn. Surely my instinct for a good eating place could not let me down twice in a row? But an Irish pub should be safe: sausage and mash, colcannon, fish and chips - all the usual safe options must be there.
The music was loud and live - think Kenny Rodgers goes to Ireland - and the brogues of the wait staff sounded genuine.
We were shown to a table by the window, but, in a Goldilocks moment, decided the chairs were too low, so we relocated to a position nearer the music, and took a look at the menu.
The usual suspects were indeed there, but so was the unexpected. Beef and Guinness spring rolls, slow roast duck, beef and stout Wellington, eye fillet with two mushroom ragout, garlic and champ ... things were looking up.
The drinks arrived (Guinness, of course, and a respectable house sauvignon blanc) and it was game on. Bill ordered the spring rolls, which came with salad and a tomato jam. The rolls comprised shredded beef and mash, and were hearty and delicious, and well set off with the jam. My salt and chilli squid was generous but unremarkable, although the tartare sauce with plenty of capers was very good.
A well-timed break, and then the mains made an entrance. Bill's Wellington of tender beef and stout was wrapped in filo, and was therefore slightly less substantial and less daunting than the version made with puff pastry. It was well set off with a Guinness reduction and a little pot of green peas puréed with smoked pork, a nice touch.
My slow-roasted duck was out-standing. The flesh was melting and juicy, and the crispy skin a joy. There was a courgette and parsnip fritter, almost but not quite overpowered by a sweet blood orange marmalata, and a shot glass of pickled beetroot. The plate also managed to hold a slice of roasted orange kumara and a roast potato. To my credit, I managed most of it, and it was excellent.
We sighed, and looked rather jadedly at the dessert offerings. This is pub food, after all, and is designed to soak up excess alcohol, so it needs to be filling.
But as Bill eyed up the dark chocolate and raisin soda bread with Guinness ice cream and rhubarb compote, a fellow diner decided it was time for her version of Danny Boy. It had to happen. The song began low and quavery, but the chanteuse soon hit her straps, if not her top notes, and we fled.
Some years ago, we, with other members of the family, used to go to the Clare on a Sunday evening for pub grub and to watch the Warriors on Sky TV.
Chef Campbell Sprague's take on pub grub has moved the Clare Inn into an entirely different league. Slainte.
Rating out of 10

Food: 8
Service: 8
Value: 9
Ambience: 7

Our meal: $99 for two starters, two mains, two glasses of wine and two beers.
Wine list: It's an Irish pub so it's more a beer list than a wine list, which pleased Bill no end. But there is a decent selection of local and imported wines for the otherwise inclined.

Verdict: Not your usual pub food. Chef Campbell Sprague was determined to lift the menu out of the ordinary. He has succeeded.