Herald Rating: 4/5
Address: 272 Ponsonby Rd, Auckland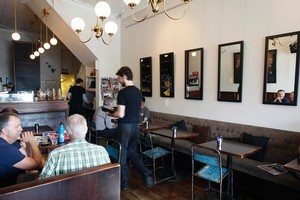 We came here because sometimes you don't want to risk an average brunch somewhere untried. So we decided on a sure thing, having been here a number of times previously.
Parking was the usual Ponsonby Rd luck of the draw.
We walked in and immediately thought we can't wait to get stuck in, and just hope there's a table for us in the shaded courtyard out the back.
The most unusual thing on the menu was the sardine timbale with capers, parsley, lemon and toasted ciabatta. One day it will be mine.
We ordered the Big Breakfast ($22.50), which contained all you want in one of these, along with with some welcome individual touches, including chicken and herb sausage and moreish fried dill potatoes. We also tried the gingerbread pancakes with pear and anise compote and golden syrup icecream ($17.50). The pancakes were a little on the soggy side but the flavours were delicious.
The service was laid-back, mostly efficient and always friendly.
The coffee was an excellent brew. More please.
We recommend if you come here you settle in for multiple coffees and stay so long you get hungry enough for lunch too - Waikanae crab omelette, corn fritters with courgette and coriander, pomegranate salad...
Overall we thought we really should be a little more adventurous in our choices but I suppose we now have a good excuse to go back.