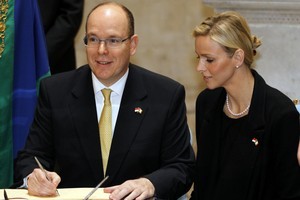 Avoiding the non-stop flood of information about the impending nuptials is going to be next to impossible anywhere on the European continent this year. I'd booked my flight out, cobbled together enough money even to pay the ruinous taxes that hit you like a fist when you book a flight anywhere in Europe these days.
Gee, what value - £17.99 all the way from London to Dublin! Now you can't complain at that, can you? Er, get real sucker. That's just the ticket price - the final bill was £55 after government taxes, airline fuel surcharges, airline handling fees and, for all I know, a personal contribution to the Aer Lingus chairman's private pension pot, had all been added on.
But back to the point. My carefully laid travel plans revolved around trying to escape the mania that will be Britain come the wedding week of Prince William and his fiancée, Kate Middleton.
Friday, April 29, sure is a date to avoid in the UK unless you are of the romantically inclined and wish to stand, gawp and "oooh" and "aaaah" somewhere on the streets of London as the bride and groom sweep past.
It's only a personal opinion but I can happily leave that emotional stuff to others. Given that there won't be a British newspaper without a floodtide of royal news and pictures, a pull-out colour supplement and probably even a free mug showing the happy couple's mugs, it seems like a great time to escape Britain.
Incidentally, on the subject of mugs, the funniest royal wedding story to date concerns the company that ordered thousands of the things with a picture of the bride and, er, Prince Harry, William's brother. Perhaps it was the same company which had a similarly tricky experience a few years back when a Warwickshire and England cricketer by the name of Ashley Giles had his testimonial season.
Giles was a spin bowler of much renown and his testimonial committee commissioned thousands of coffee mugs with his face and the words "King of Spin" across the top. Alas, misunderstandings do happen.
When the mugs arrived, all white and pristine, they bore the phrase "King of Spain" across the front. Poor Giles was forever after the butt of jokes about the Spanish Inquisition.
Anyway, with all this wedding fever in the air, it seemed to me a cracking idea to flee Britain for awhile. Now France in springtime is a delight, especially down in the south. But, quelle calamite, what is this - ANOTHER royal wedding?
Oh yes, Prince Albert of Monaco is marrying his fiancée, South African former Olympic swimmer Charlene Wittstock, in the Royal Palace at Monte Carlo on July 8. And already, many of the French glossy magazines, only able to splash pictures of their unpopular President, Nicolas Sarkozy, and his wife, Carla Bruni, have devoted complete forests of newsprint to the story with pictures of Albert from babyhood.
But if Europe is also going marriage-mad in 2011 maybe, on reflection, it would be better to return to Britain once William and Kate have tied the knot and relax there once all the fuss is over.
But no. News then emerged that Britain is set for not one but two royal weddings this year. Zara Phillips, daughter of Princess Anne, is marrying England rugby player Mike Tindall on July 30 in Edinburgh.
All of which presumably means that by Christmas, we will all have a matching set of free mugs from the Daily Mail to give away to some long-loathed aunt or granny.
Ye Gods! Is there no escape from this royal procession down the aisles of Europe? Trains, as in bridesmaids' dresses, seem to be more popular than the commuter variety.
But it means that avoiding the non-stop flood of information about the impending nuptials is going to be next to impossible anywhere on the European continent this year. Even Harry Houdini might have struggled to escape from this nightmare.
So working on the principle of "if you can't beat them, join them", I suggested to the missus one bright day: "How about taking our marriage vows again then, dear?" Correct me if I'm wrong, but a response of "Once is more than enough with you" probably means I won't be joining the train, not this year anyway.