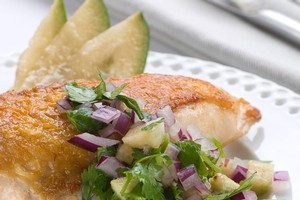 Roasted goodness
Set your roast of pork on a bed of whole feijoas and onions, for a melty, caramelised alternative to traditional apple sauce (just whizz them together while the pork rests). Or to accompany cold roast meats, swap apple with feijoa in a waldorf salad with chopped walnuts and a creamy mayonnaise (add dijon mustard or grated ginger for tang).
Salsa dancing
Feijoa chopped with pineapple or sweet red onion, chilli and coriander is a great salsa for fish such as hapuku. Or top a smoked fish salad with a salsa of feijoa, avocado and Vietnamese mint.
Sweet treat
Experiment with feijoa in icecreams or stir into your favourite date or apple muffin or cake recipe.