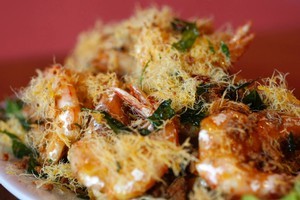 1. Sri Puteri
59 Queens Rd, Panmure, ph (09) 574 6775.
Mamak-style Malaysian food comes courtesy of the southern Indian Muslim traders of the 14th century. With a popular combination of Indian and Malay flavours the food is cooked from scratch every day for authentic hawker flavours and owner Kay will happily give you your favourite twist on a dish. Do try the Malaysian teas with ginger or evaporated milk.
2. KK Malaysian Restaurant
463A Manukau Rd, Epsom, ph (09) 630 3555.
The Chinese-style Malaysian food of this restaurant's stands have found it swamped at the Malaysian Kitchen events at food and international cultural festivals during summer. The restaurant is always crowded and buzzing. Head there if you're nostalgic for the tastes of KL and try the butter prawn or the fish head noodles.
3. Mutiara
66 Ponsonby Rd, ph 09 376 2759.
One of the inner city foodies' long-time favourites, Mutiara knows its customers. Service is fast and friendly, dishes can be adapted for vegetarians, and the flavours are deep and fragrant. Kum heong har (aromatic prawn) is highly recommended.
4. Angie's Kitchen
17 Mount St, Auckland City, ph 09 368 1618.
A tiny joint off Symonds St, this place is packed with students hungry for a taste of home and loyal followers who know exactly what they'll order. The Nasi Lemak is as good as it gets.