Tim Webber plays with form in his designs. He tells Viva what else he's into.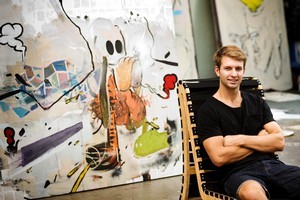 From an oversized Rubik's cube installation to a chair made up of beach balls, Tim Webber's work has an obvious sense of fun. The 3D object designer recently established a namesake studio, creating clean lined furniture that showcases his wit, like a floating coffee table made of plywood, tables made of railway sleepers and more.
Webber currently has a show of new pieces upstairs at BoConcept, which will run until April 30. He talks us through some of his favourite things, from retro video systems to custom made motorcycles.
* BoConcept Showroom, 20 Normanby Road, Mt Eden, Auckland.
10 FAVOURITE THINGS
1. Claes Oldenburg
Oldenburg is one of my favourite sculptors; he plays with the use of scale exaggeration on everyday household items ranging from handsaws to safety pins.
He inspired me to make some of my own oversized sculptures like my giant Rubik's Cube and Inflatable Life Ring.
2. European furniture
Some of the furniture that came out of Europe between the 1920s and the 1960s still looks as contemporary and modern as when it was built. The timelessness of classic designs from the likes of Charles Eames and Marcel Breuer continue to push me to attempt to create furniture with the same qualities.
3. My Poppa's old Atari
My poppa's old Atari gaming console still manages to provide hours of competitive tennis and Pac-Man battles. Some things just never get old.
4. My studio
I'm very lucky to have a couple of places from where I can design and produce my work. My studio, which I share with other artists and designers, has a great creative vibe and there's always something happening. Seeing other artists create work pushes me to explore new and fresh ideas.
5. Engines
When you actually pull an engine apart and see its workings, the attention to detail and the minute tolerances it takes for your average car to simply start every morning is crazy. I can never get my head around the fact that this technology was invented well over 100 years ago.
6. CNC cutting
The technology of CNC machining that helps me create furniture like my "Floating Coffee Table" has transformed what we can do and what we can make with an awesome level of accuracy and precision.
7. Vintage toys
My grandpa used to be a huge collector of anything and everything, so I've managed to get my hands on some of his old vintage toys. They're all constructed from metal and are like little pieces of machinery with cogs and gears that make everything work. They just don't make toys like they used to.
8. Matt Arbuckle painting
I love the series of paintings Matt did with distorted cartoon characters in his traditional painting style. The humour in his works always gets my funny bone; you can't help but laugh about seeing your old favourite cartoon character smoking something. I've done a few swaps with Matt, too, but I always seem to end up with the better deal.
9. Shed Five custom motorbikes
The bikes constructed in the workshop at the back of the Shed Five cafe are amazing pieces of engineering. I love the stripped back, clean and simple series of bikes they've made with big chunky rear tyres. I don't own one of these yet, but one day I'll get there.
10. Plywood
It's a very versatile material that I utilise to make the majority of my furniture. The layered laminations of the plywood help produce a stunning edge to make a feature of. There's so many quality plywoods around that the applications for it are endless.