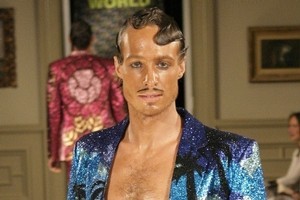 Viva visited the fantastic Man Style exhibition at the National Gallery of Victoria (NGC) recently, and spotted two local designers representing New Zealand menswear. Pieces from World Man and Nom*D feature in the men's fashion exhibition, alongside pieces from the likes of Pierre Cardin, Jean Paul Gaultier, Rick Owens, Bernhard Wilhelm, Thom Browne and more. World has three pieces, including the glitter suit pictured, and designer Benny Castles also appears in the interview sequence that appears in the display. ManStyle is showing at NGV Australia in Melbourne until November 27.
We flew to Melbourne courtesy of Tourism Victoria and Pacific Blue, who offer daily flights from Auckland to Melbourne.
Summer lovin'
Winter collections are only just arriving in store, but local designers already have summer on their minds - here's an exclusive sneak peek at what to look forward to from Twenty-seven Names and Salasai.
The Wellington-based designers behind Twenty-seven Names held an exhibition in Sydney last week to launch their spring/summer 11/12 collection and campaign, called Still Waters Run Deep. The haunting beach-shot campaign images and studio portraits were by local photographer Guy Coombes, and sat alongside illustrations by Twenty-seven Names co-designer Rachel Easting. They are also set to launch a basics range called &Co by Twenty-seven Names. Meanwhile Salasai launched their spring/summer 11/12 collection A Strange Love Project in Auckland last night, with a video and photographic exhibition in collaboration with jewellery designer Nick Von K and Black magazine. In addition to a film and campaign, photographer Russ Flatt also presented portraits of friends who have inspired the Salasai label, including singers Anika Moa and Julia Deans, Stephen Marr hairstylist Lauren Gunn and iconic Kiwi model Penny Pickard, who also features in the campaign and lookbook. These pieces were auctioned off with 100 per cent of the proceeds going to the Red Cross Christchurch Earthquake Appeal. Watch the Salasai video campaign for a peek at the new collection.
A royally good time
Milliner Natalie Chan is collaborating with The Langham to celebrate the royal wedding this month. Chan's new royal inspired collection will be on display at the Auckland hotel until April 30, with a special "Tea Royale" afternoon tea. Guests to the afternoon tea will be invited to vote for their favourite headpiece from Chan's collection, with the a winner taking one away. The classic afternoon tea is $39.50 per adult, while the Champagne Tea Royale is $59 with a glass of champagne. To reserve a table, phone 0800 61 62 61.
And while you're celebrating with tea, cock your little finger like a commoner while wearing Butter London's limited edition No More Waity Katie nail polish. The Royal Wedding-inspired polish has now arrived in the country, with the mushroom grey with lilac glitter shade on sale in selected Farmers, gift and fashion stores.
Get your motor running
The ultimate shopping accessory? This Fiat 500 by Gucci. To celebrate the 150th anniversary of the unification of Italy, these two iconic Italian brands have come together, with Gucci's creative director Frida Gianni customising the iconic Fiat Centro Stile car with fashionable touches such as hubcaps with the interlocking GG logo and Gucci's signature green-red-green stripes around the exterior, on the seats, the gear shift, the carpets and the seatbelts. It costs around €17,000 ($31,500), if shipping a car halfway across the world is a little out of your league, go to gucci.com and check out the accessories range which includes drivers' gloves, tracksuits, sunglasses and a watch.
Huffer's hair
Huffer has designed a new limited edition T-shirt for the Leukaemia & Blood Foundation's Shave11 fundraising drive. The men's and women's tees feature characters with different haircuts, from a bowl cut to a mullet. They will be given to everyone who raises $500 or more for Shave11, and can be bought online for $55. Shave11 runs until April 10, but the tees are available to purchase now.
Printed material
Local label Fistful of Bird's prints (pictured right) are definitely worth a look at for winter - we like the bold "Anthem" and "Birds of Earth" prints which feature on well-cut T-shirts. From $144. For stockists phone (09) 815 1063.
Bags in store
Taylor Boutique is hosting a special Designer Day at its Ponsonby store this Saturday, with Nelson-based leather label Kohl and Cochineal (formerly known as Gala). Designer Louise Legatt will be in store, with the full collection of bags on offer on the day.
Ruby nails
Ruby Boutiques are increasingly becoming a one-stop shop for anything a girl could want: clothes, shoes, accessories and now, nail polish. They have their own line of lacquers in store now, in perfectly on-trend shades - from mint to khaki to classic ruby red. They retail for $19 each.
Street prices
Get skate style at street prices, with the Elroy range exclusive to budget outlet Number One Shoes. The men's casual wear range, which traces its roots back to the early 1990s, features colourful soles and uppers in canvas and quality synthetic materials. And at just $39.99, you won't mind scuffing these up.