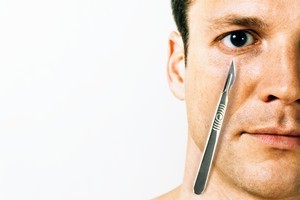 Australian men are embracing cosmetic procedures like never before as stigmas around the treatment fade.
With the industry now worth an estimated $1 billion annually, anecdotal and statistical evidence suggests men are more willing to go under the knife than ever before.
Australasian College of Cosmetic Surgery (ACCS) president Russell Knudsen says men have been the driving force behind the industry's exponential growth, despite the global downturn.
"It was traditionally a female-dominated business, but the fastest growing segment of the market is men," Dr Knudsen said.
"They obviously don't have breast augmentation, but they do have love handles, abdomens, they have their bellies sucked of fat as they get older.
"And if they're fearful of surgery, they get the volumetric work done."
Dr Knudsen said as the retirement age increases, men are looking at cosmetic treatment to keep looking young.
"We're all working harder and longer, and now that we're living to 85, maybe we don't want to be bored for 30 years - maybe we're going to work longer and be seen to be productive," he said.
"Guys who are healthy at 60 or 65 don't want to give up their careers and lose relevance.
"The goal is to look and feel as young as possible."
Stephen Alder, a 47-year-old Melbourne engineer, admits to using Fraxel, which uses lasers to smooth facial skin, as well as Thermage, a radio treatment which heats the skin.
"It was an opportunity for me to have a procedure that was not invasive," he said.
"All the minor imperfections, the acne scarring, have gone away.
"I feel as though my skin is coming back to being more complete."
Alder said as men become more educated about cosmetic surgery, they are more likely to embrace it.
"Men don't understand the mechanics, and men like to know the nuts and bolts of it before they get involved," he said.
"Once they see that there's a laser involved and this is all it's doing, and this is how it works, they say 'oh, that's easy'.
"Whereas a woman just looks at the results."
Sydney-based facial plastic surgeon George Marcellus says he has noticed a big change in the number of men getting rhinoplasty.
"If I look back to the past five years, there are more guys having nose procedures done," Dr Marcellus sasid.
"It used to be mainly sporting injuries and breathing difficulties, but now a lot of the reasons are purely cosmetic."
"There is a lot more emphasis for guys to look good."
But Dr Marcellus said there needs to be careful consideration taken before electing to have surgery.
"The nose is all about structure, and anyone looking for a quick fix is setting themselves up for disappointment," he said.
"I think that's where people get themselves into trouble."
- AAP