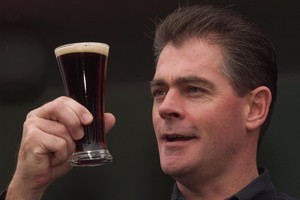 A New Zealand brewery is toasting its success after its hops were chosen for a new English beer being brewed in honour of the royal wedding.
Street party revellers celebrating Prince William's marriage to Kate Middleton on April 29 are expected to down the Windsor Knot, produced near Windsor Castle.
The 4 per cent pale ale, available by bottle and on tap, is infused with Nelson Sauvin hops, grown at the Nelson-based brewery New Zealand Hops. It is to be delivered to Windsor this week by horse-drawn cart by the Windsor and Eton Brewery, which has developed the beer.
A blend of malts is used in the beer along with another local hop - the Sovereign, which was developed for the Queen's Golden Jubilee. The combination of the two is said to represent "the far ends of the Commonwealth".
The New Zealand plant was developed in 2000 by HortResearch (now Plant & Food Research) in Wellington and imparts a "sauvignon blanc-like" flavour to beers.
NZ Hops chief executive Doug Donelan said the Windsor brewery sought the hops from its British merchant, Charles Faram, in Worcestershire in central England.
"It also comes from New Zealand where our Prince was recently a smash hit while visiting Christchurch after the quake," Mr Donelan said.
"We're obviously chuffed that an English brewer would pick this hop for such an event but draw more from itas a developing trend than anything else.
"This is some hop that will aid to shape some new beer styles or augment many others."
Mr Donelan said the company was not aware of all the English beer its hops were used in as there were more than 700 breweries in Britain. Of the 60,000kg produced in the past year, 15,000kg would have been used in British beer.
Windsor and Eton Brewery, which also produces the Knight of the Garter, the Guardsman and the Conqueror ales, has said it wanted to produce an ale which would be suited to barbecues and street parties held across the nation on the day.
Company director Will Calvert said Windsor Knot had enviable royal credentials that would make it a top choice.
"Windsor is the home of William's family, Eton is where he went to school, and so a beer coming from royal Windsor is the most authentic royal wedding beer you can have."
The Windsor Knot logo depicts two swans kissing, which the brewery said was a "perfect symbol because of their royal associations and that they pair for life - true love birds".
Other novelty beers produced in time for the wedding include Kiss Me Kate, I Will and Better Half.
Windsor Knot is available this month and in May but if there is enough demand, may be produced until Princess Anne's daughter Zara Phillips marries rugby player Mike Tindall in July.