An Auckland family is taking a relaxed attitude to home improvements, creating a colourful paradise.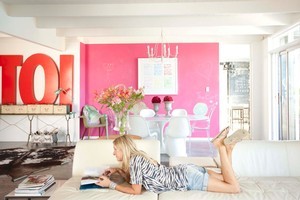 Photographer Kevin Emirali and wife Tina see the renovation of their 1960s concrete home in Murrays Bay, on Auckland's North Shore, as a work in progress.
They are taking a long-term approach to improving the home they bought more than three years ago. Built by a blocklayer who used it to showcase his work, it has the strong, clean lines of its era and every wall is concrete.
Features that sold the couple on the home were its L-shaped layout, the generous-sized living room, where clerestory windows bring in light, and the shiplap ceilings. Some things had to go, though, including the mauve walls, green curtains and veneer flooring.
Keen to highlight the materials in the home - timber, block and metal - and give it an industrial feel, they stripped the living area floors back to concrete and painted the walls white.
While they have plans for future structural alterations, the Emiralis' philosophy is to enjoy their home with their three children - Louis, 10, Eva, 7, and Austin, 2 - now, and make improvements as money becomes available.
Their furniture is a happy mix of the aesthetic and the practical. In the dining room, a 220kg marble-topped oval table can take anything the kids throw at it. The modernist square-form sofa was also chosen for its practicality. "It's leather, because you need wipeable surfaces with kids," says Tina. Austin loves sitting in a Louis Ghost chair while he eats morning tea.
Having painted the entire house white, the Emiralis then began to introduce colour. It all started when Tina decided to make fun chalkboard shapes for the children's rooms and to sell at the local markets, but couldn't find blackboard paint in any colour other than black. So she and Kevin made contact with a French-born colourist working in New York and ended up forming their own company to produce low-volatile organic compound acrylic chalkboard paint in 24 colours.
A hot pink chalkboard in the dining area created a literary storm at a memorable dinner party.
"One night everyone was just standing on the chairs, writing things on the wall. It was completely covered."
The kitchen is painted chalkboard black and the walls come in handy, not just for shopping lists but for inspirational sayings. "It also helps the kids with their homework," says Tina. "I write their spelling on the wall so they see it at breakfast."
One saying here is a permanent fixture. Written in Maori, it reads: 'Waiho i te toipoto kaua i te toiroa'. Loosely translated this means: 'Better together than apart'.
It's a mantra to live by. "Our philosophy is: don't make paradise your home, make home your paradise."
Style tips
Chalk face: If you're reluctant to paint entire walls in chalkboard paint, you could try introducing smaller areas to add colour and interest. They are great for writing reminders and messages on, and can be a fun and educational feature for kids.
Let fly: If there's a colour you love, don't be afraid to use it and be bold with it.
Priority queue: Make the rooms you use most frequently top of the list when it comes to renovations.
Leanne Moore is the editor of Your Home & Garden. See the latest issue, on sale now, for more achievable home ideas.