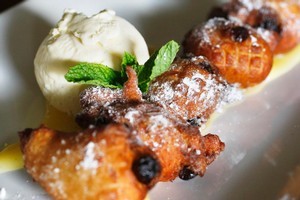 It's all about the food at Two Fifteen. Sure, the bar and bistro on Dominion Road is well laid-out and reasonably stylish and comfortable with high-backed leather chairs, white tablecloths and napkins, but our little nook was adorned not by a painting or a sculpture but by a wall crammed with framed awards the restaurant has won.
And although they might have been deeply impressive, they didn't hit high on the style sensor.
But this is a bar and bistro and at Two Fifteen decor's not the point.
Our waiter was part of the overall picture. He reeled off the types of dried meats and sausage that feature in chef Jeremy Schmidt's home-made charcuterie entree with the familiarity most of us have when we run through the grocery list. He also knew immediately which wine on the relatively long wine list would appeal, exactly how the pork belly was cooked and ...
Another good thing about Two Fifteen is the fact you can hear each other.
My heart sank when a table of six young women and a couple of men filed into the table alongside. In most restaurants this would mean the end to any meaningful conversation. But no. Truly, although we could see their lips moving, we didn't even hear them laugh.
After the build-up, Brian couldn't wait to sample the charcuterie. He loves meat of all sorts, but especially the cured, dried and smoked varieties. He declared Two Fifteen's home-cured selection not only great-tasting and generous, but also featuring some varieties that are almost impossible to find in Auckland.
Meanwhile, I was delighting in the flash-fried squid, which arrived in such a large mound I assumed it was a handful of squid slices sitting on a pile of rice or similar. Not so. The entire stack was made up of wide-cut, tender-as-butter pieces of squid, coated in a tangy aioli. And although it was billed as "fried", this version had no coating or batter. Presumably it isn't as fattening either.
However, Barb's seared scallops were not seared enough for her liking. Her first mouthful tasted a little raw and cool in the middle, she said. And although the samples she gave the rest of us seemed okay, she was underwhelmed. There's a fine art to cooking delicate shellfish like scallops to perfection. It seems Two Fifteen missed by a couple of seconds.
Skipping an entrée, Bob opted for the confit duck leg. He declared his meal fabulous: "delectable, cooked to golden, sumptuous, melted, perfection, especially topped with salad".
The pork belly, which Two Fifteen apparently braises for 18 hours, was so tender you could almost cut it with a fork, and yet Chef Schmidt had managed to achieve crisp, if not crackled skin. Barb's pumpkin and ricotta tortellini was okay, but lacked pumpkin flavour. My pink lamb shoulder rack was almost as good as Bob's duck. Rare without being even slightly raw and carved into large, lean and tender shoulder chops, it was served with baby broad beans in a tasty sauce.
Our desserts were similarly good. Bob had to leave, but the rest of us shared the chocolate terrine and Italian fritoles with lemon curd and vanilla icecream. And, with two types of terrine and eight fritoles, there was plenty.
Two Fifteen is a welcome part of the Mt Eden end of the Dominion Rd feeding frenzy. It provides excellent bistro-style food at a relatively reasonable price.
Rating out of 10
Food: 8
Service: 8
Value: 8
Ambience: 7

Our meal: $285 for three entrees, four main courses, two desserts, four glasses of wine and a coffee.
Wine list: Interesting and varied with an entire section of Auckland wines.
Verdict: Hearty servings of classy bistro-style food and interesting wines served by highly professional waiters in a comfy and elegant but dull setting.