Auckland interior designer Sonya Cotter shares the key trends from this year's IMM Furniture Fair in Germany.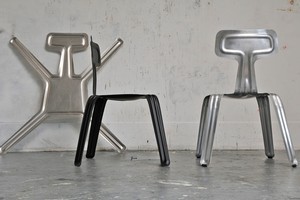 In mid-January, when most of her friends were basking in the heady pleasures of Auckland's summer, interior designer Sonya Cotter of Sonya Cotter Design packed her puffer jacket, possum-fur gloves and boot liners and hopped on a plane to Europe to attend the IMM Furniture Fair in Cologne, Germany, followed swiftly on its fashionable heels by the Maison & Objet trade show in Paris, France. "It was a week of immersion in design trends," says Cotter who also frequently makes the pilgrimage to the annual Milan Furniture Fair in Italy. "But Milan is becoming so expensive that the fairs in other cities are on the rise."
After leisurely breakfasts of croissants and coffee - "Europe does not start early, thank goodness" - it was off to soak in the sights set up in myriad halls spanning many blocks. "You walk for miles at these fairs," says Cotter. Even though her German and French are halting, she found it easy to navigate the unfamiliar streets. "Just follow the trail of glamorous people," she laughs.
Language was no barrier to an appreciation of form, fun and function. "The designers on the stands were so passionate about their work that we had some great conversations."
Here are her hot-off-the-press observations and top picks from the shows:
1. Young guns on the move
The D3 Talent Forum in Cologne encourages originality and draws young designers from all over the world. Hanna Emelie Ernsting from Frankfurt presented her playful Moody sofa that can be adjusted to suit your state of mind. "It sits on a frame like a basic sofa but, if you feel you want to take some real time out, you can pull up the fabric around you like a cocoon."
London-based designer and artist Harry Thaler was an award-winner with his Pressed Chair stamped out of 1sq m of aluminium. The chair is minimal but strong and stackable, and its simplicity ties into a waste-not want-not philosophy.
Thaler was awarded first prize and Ernsting got a second prize.
2. The kitchen in disguise
Forget the ostentatious kitchens of the 2000s, now it's about effecting the greatest disappearing act. "The dining table is taking all the glory instead," says Cotter. "And the kitchen itself is designed to look more like a piece of furniture." Philippe Starck has surrounded his cabinetry with bookcases and a ladder to access them so the kitchen becomes more like a library. Built-in upholstered seating forms part of this space, cupboards are hidden behind secret panels, extractor units are camouflaged as lights and there's in-drawer storage for everything, including your pepper grinder, so that nothing need be on display.
3. Raw passion
Forget glossy surfaces, they've done their dash. The word on the streets of Cologne is to keep it real. Wood is the all-round hero of the moment from textural rough-sawn timber to endless veneers. But, never fear, this look is not a return to the slabs of rimu on island benches. It's far more sophisticated. "The trend is to show the essence or history of the material, not to cover up any imperfections," says Cotter. In kitchens this also means what once was on the floor may suddenly be on the up-stand of your bench or cabinetry: slabs of freshly mined slate, chunky un-honed stone, industrial metals, generous areas of ceramic. Thankfully, your drawers and doors can handle the heavy load. "The internal hardware such as runners and hinges are so advanced, they can cope with the extra weight."
4. Adapt or die
In times of economic downturn, it helps if you can wear two or more hats. That's the same for furniture; it has to do more than one job and change with its owners circumstances. Take the chameleon-like COR Fossa sofa designed in Denmark, for instance. Fossa means "trench" in Latin which refers to the channel down the back of this sofa into which you can insert cushions, armrests or even magazine holders. By moving the cushions the sofa can be a chaise lounge or a two-seater. It can cosy into a corner or stretch out along a wall. "It's a lot more versatile than your average modular sofa," says Cotter.
5. Relax into it
Committed couch potatoes can heave a sigh of relief - the sofa is no longer so severe. "Snuggling continues to be a trend," says Cotter, "with both the shape and fabric textures inviting us to nestle down." The latest Ploum sofas by Ronan and Erwan Bouroullec from French company Ligne Roset feature dimpled stretchy fabric and are described as resembling "a ripe voluptuous piece of fruit". Other exhibitors showed designs with gathers, pleats and quilting but boucle, flannel and the softest leather are part of the comfort-is-king picture too. Homely fabrics include knits in oversized yarns and crocheted coverings.
6. Fractured fashion
Imagine patterns like herringbone or harlequin with their contrasts between black and white. Even the shape of objects steers away from the smooth and curvaceous to the strong, slightly jarring effect of multifaceted fronts. "I think this trend is in antithesis to leaving things natural. Think crumpled surfaces, fragmented forms or crystallisation. Everything looks like it's just exploded," says Cotter. Examples of these include a vase by Pols Potten from Holland that is patterned with circles within stars, and hanging lights entitled "48g and more" by Frankfurt-based designer Kai Linke where mirrored film gives a splintered look.
7. Lifestyle choice
Fancy a holiday in the Bahamas? Non merci! I'd much prefer a kitchen. "Even though a well-built kitchen can last up to 20 years, consumers simply want a new one just to make life better," Cotter says. They may not be moving house as much but they still have money to spend. And a kitchen can be enjoyed every day, so it suits their lifestyle. In these "dangerous" times, we're staying close to home.
8. Let it all hang out
Stitching, joins and fastenings become key decorative elements that are all left on show. "At one stand there was a table made from two pieces of milled wood, where the joins didn't even match so there was a gap," says Cotter. Blemishes or rough patches that happen during the production process are allowed to shine, not eliminated. This is evident in Pia Pasalk's (German) design label Content & Container. A range of handmade Delft-like blue and white plates has raggedy edges as if the potter was slightly inept or they may have chipped in transport. The drinking vessels have seams running the length of them. "The flaw is the centrepiece," says Cotter.
9. Thank you thank you
Concept stores, a little like The Department Store in Takapuna, are springing up all over Europe. "Merci Merci was my favourite," says Cotter, "and to my mind a 'must visit' if you're ever in Paris." The store has keyed into the trend to choose a style - and stick to it. So in just one place you can buy your clothes, your stationery and your furniture and know that it will all meld into a certain "look". At Merci Merci Cotter discovered the charming gardening company Bacsac whose philosophy is "nature is in the bag". They market a range of strong but lightweight polythene garden containers that you can pick up and move around. And, should you move house, the garden can move with you.
10. Sustainability ... still
Yes, this one isn't going to go away, thankfully. At this year's IMM, a "Trend Board" was appointed. Its illustrious line-up included Spanish architect Patricia Urquiola and Swiss fabric designer Martin Leuthold who came up with sustainability as the major trend of 2011. So why should we care? Because sustainability relies on quality - of workmanship and materiality - which means, it's going to last. "When a piece of furniture crosses the threshold between a fashionable accessory or lifestyle item [to be] a potential heirloom, that's definitely a big contribution," they said.