The art of wine-tasting requires the use of all of your faculties.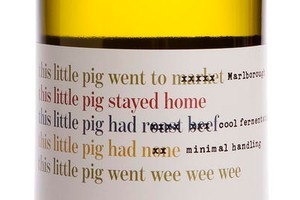 Above the murmur of civilised conversation comes a sound akin to an elephant sucking up liquid from a watering hole. As we're not in the savannah, but a chic city restaurant, heads turn in horror towards the source of this impolite emission - a middle-aged man now found snuffling wildly, his trunk deep in a glass of wine.
While such slurping and sniffing can commonly be heard at professional tastings, it's perhaps best not practised in the wider public domain. There are, however, a couple of tasting techniques that when in employed at the right time and place can enhance the enjoyment of what you're drinking.
It's no bad thing to start by getting your snout into your stemware. The tongue may be where we detect the five basic tastes - bitterness, sourness, saltiness, sweetness and the recently discovered savoury taste, umami - but it's a pretty blunt instrument when it comes to sensing more complex stimuli. It's actually the nose that does most of the work. This is where the olfactory receptors are situated, which pick up the subtler nuances of what we taste.
Swirling your glass is not just a wine taster's tick or a signal sent out to indicate vinous prowess. It's something that helps whisk those aromatic molecules up your muzzle, providing a first whiff of what's to come. A good motion can be mastered by moving a glass in circles on flat surface, before trying the same manoeuvre freehand.
After you've checked out the bouquet (or "nose" as the pros call it), take a medium-sized sip. Swish it around so it touches all your taste buds. Then try to pass some air across the surface of the wine that's in your mouth to draw as many aromas as possible up into those olfactory receptors.
If it's in private or with fellow tasters, you can do this by the slurping method, bubbling air through the liquid to create the distinctive audible element. Similar results, however, are possible to achieve more quietly: just suck in with less ardour. With a bit of practice you can hone the art of letting the air in without dribbling the wine out and will soon be sampling like an aficionado.
No need to spit if you've not got a marathon tasting ahead of you, when swallowing becomes essential for sobriety. But do continue to pay attention, as the sensations don't necessarily stop here. While the impression left by simple plonk can be gone in a gulp, the flavours from superior specimens will linger positively for some time in your mouth - this aftertaste is known as a wine's "length" or "finish".
But all this technique is nothing if you don't pause to process what you're experiencing. You don't have to make a tasting note: although this can help cement the impression of a wine in your mind and give you something to refer back to. Simply spend a few moments observing its character - its aromas, flavours, textures and intensity - and try to link these with a few descriptors that make sense to you. Paying attention to what passes our lips, even just for a matter of seconds, heightens the experience and is the first step to becoming a better taster.
Well, I'm just off to dine with a glamorous fellow female wine scribe. We'll be getting the most out what we're imbibing this evening, but if we turn any heads, it'll not be for our cacophonous quaffing.
WINES TO SNIFF OUT
PORCINE PICK
Squealing Pig Marlborough Sauvignon Blanc 2010 $24.99
You'll either love or hate the "critter" branding of this new label from Fosters, which somewhat belies the quality of the wine within. Far broader in appeal is this stylish Awatere sauvignon's intense and zesty palate of gooseberry, nettle and mineral. (From traditional liquor outlets.)
CLASSY CHARDONNAY
Bouldevines Dog Point Road Marlborough Chardonnay 2008 $24.95
A classy chardonnay, which combines notes of white peach and juicy citrus with an attractive savoury toasty undercurrent. (From Liquorland Albany & Mt Eden, Point Wines, Miller & Co, Dominion Rd Wines & Spirits.)
SUPERLATIVE SYRAH
Mudbrick Shepherd's Point Waiheke Island Syrah 2010 $44
Waiheke wineries are going wild about the quality of the 2010 vintage, with Mudbrick's winemaker Martin Pickering considering it the best ever on the island. From what I've tasted so far, it's certainly looking like a great year with some sumptuous wines in the offing like this seriously good syrah. It's super-concentrated with earthy dark plummy fruit, overlaid with notes of bitter chocolate and peppery spice.