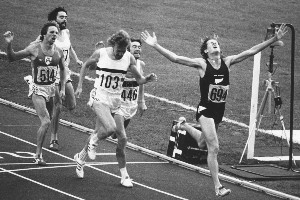 The hunt for black continues, with the New Zealand Fashion Museum calling for specific pieces that have shaped our history - from sports to movies to music to fashion. Curator Doris de Pont is currently researching for the Black in Fashion exhibition, which will open later this year as a pop-up exhibition in September. The museum does not own a collection, instead it draws pieces from private collections and wardrobes that have been treasured over time and have special stories behind them. For this exhibition, they are looking for pictorial and material evidence of the wearing of black in New Zealand. They have already been offered and loaned some pieces including a New Zealand-made 1920s beaded flapper dress and a velvet cocktail dress made for shipboard functions on the Southern Cross as it sailed to Southampton. But de Pont is after some specific garments that are proving to be more elusive, and she is asking Viva readers for help.
"We have been looking for the uniforms of some of our national sporting champions. Most we have spoken to donated their memorabilia for charity auctions and fundraising.
So while they no longer have them, someone bought them and I'm sure now keep them as the treasure they are. We hope that some of these folk will welcome the opportunity to share a winner's black running singlet or jersey or jacket or cap with our audience in September." Other key objects that de Pont is searching for include:
* Representative uniforms worn by the likes of John Walker, Murray Halberg or Peter Snell at Olympic Games, or by sports people from other codes such as rugby, swimming or rowing.
* Any black garments from Karen Walker's Escape Artiste collection, which was shown at London Fashion Week in February 1999.
* An original black Victorian mourning dress, usually a skirt and bodice, plus head wear and jewellery.
* A black polo neck jumper from Flying Nun bands such as the Chills or the Verlaines. "Or perhaps Graeme Brazier or Dave McArtney's leather jackets. And whatever happened to Ray Columbus' 'mod' stovepipe pants and Beatle boots?"
* Iconic garments of New Zealand Fashion - like the Cybele "Iridescence" dress worn in Outrageous Fortune or Konstantina Moutos' Supreme Award-winning entry in the Benson & Hedges Fashion Awards in 1986.
* Iconic black garments such as the black T-shirt worn by Jake the Muss, the black singlet of Billy T. James, Fred Dagg's gumboots, or Sam Hunt's Foxton Straights.
If you can help with the whereabouts of any of these garments - or any other interesting black garments you may have - contact Doris de Pont on doris@fashionmuseum.co.nz, or 021 680 860.
Singing with style
Gorgeous musician Annabel Fay kicked off the Viva Fashion Festival Runway Show last week with the song River which is from her new album Show Me the Right Way which goes on sale on April 11. Dressed in killer wedges, Fay set set the tone for a night of top fashion with leading labels showing off their winter 2011 collections.
The Dunedin look
Liz Mitchell is joining the line up at iD Dunedin Fashion Week. The week of southern style runs from April 5 to 10, and will have an international flavour this year with Australian designer Akira Isogawa and Vogue Australia's Damien Woolnough (editor of vogue.com.au) in attendance. Mitchell will showcase her winter collection, The Scent of Peony, and archival pieces as part of the iD Fashion Shows on April 8 and 9, alongside Isogawa and local labels including Nom*D, Carlson and Kathryn Wilson. Tickets available from Ticket Direct or 0800 4 TICKET.
Fashion does good
Big ups to The Department Store in Auckland, who recently donated a full day's takings on March 25 to the Christchurch Earthquake Red Cross Appeal - they raised $26,150.
Romantic notions
Jewellery label Naveya & Sloane has launched into Angela Daniel stores, with lots of feminine pieces - like a sterling silver Stained Glass Secrets bracelet with a parachute charm as well. It is $799, and in store at Angela Daniel Newmarket, ph (09) 524 7286 and Albany, ph (09) 925 9273.
Crystal healing
We love these crystal Pop! necklaces by Ishikoro, which come in an array of colours. They're $180 each, and new in at Miss Crabb, ph (09) 361 3322.
People's choice
Salasai and Kohler were the winners of the Urbis Design Day People's Choice award for best showroom. The two collaborated on an installation, themed around the transition through the four elements. Other showrooms that took part included Design Denmark and Poggenpohl, who have both taken part in every Design Day.
Cutey pie
The winter collection has arrived at Trelise Cooper Kids in Nuffield St, Newmarket. As well as outfits in the designer's distinctive giant polka dot fabric and jackets with military-style embellishment, there's also kid-friendly denim and Aran knit cardigans, plus party pieces for little princesses. The store also stocks affordable accessories, such as hairclips and pendants.