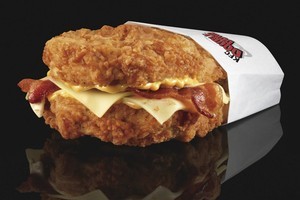 KFC New Zealand has confirmed that a deep-fried chicken burger - with no bun - is coming to New Zealand.
The Double Down Sandwich is made of two pieces of bacon, two melted slices of cheese and a secret-ingredient sauce encased in two deep-fried slabs of chicken. It is to be released in Australia today.
A spokeswoman for Restaurant Brands New Zealand yesterday said a launch date for the new burger has not been confirmed, however it is "not very far away".
With 1939 kilojoules, the 212g original recipe has 32g of fat and 540 calories; while the grilled version has 460 calories and 23g of fat.
Since being released in the United States, the sandwich has been heavily criticised by health experts who have slammed KFC for putting the fat-filled snack on its menu.
Auckland clinical nutritionist Linda Outhwaite said although controversial, a Big Mac from McDonald's was just as bad.
"This [Double Down Sandwich] may have no buns, but don't be deceived into thinking it is a healthier option.
"Fat requirements vary between individuals but this burger contains around half of the recommended daily intake for most adults - and that's before they ask: 'Would you like fries with that?"'
Women should have a fat intake of between 40 to 70g daily and 50 to 75g daily for men.
Adults should aim to eat a maximum of 2000mg of sodium, from all sources, daily. One teaspoon of salt is the equivalent of 2000mg.
"A Big Mac contains [around] 1093mg sodium. This new burger may contain even more - again over half the daily recommended intake.
"It is so easy to make a healthier option at home ... even with buns."
Australian nutritionist Susie Burrell said it would take about two hours of walking to burn off the calories.
ARTERY CLOGGERS
* Double Down Sandwich: Original - 540 calories, 32g fat, 1380mg sodium.
* Grilled - 460 calories, 23g fat, 1430mg sodium
* McDonald's Big Mac: 26g fat, 1080mg sodium
* McDonald's The Boss: 44.4g fat, 1120mg sodium
* Burger King Double Whopper: 54g fat, 1088mg sodium
* Burger King Hawaiian BK Chicken: 48g fat, 1805mg sodium