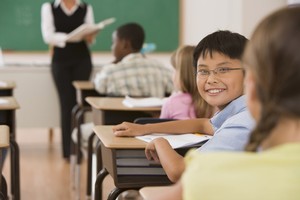 My son will start primary school in a couple of months and while I acknowledge there will be plenty to tug at the heartstrings about that, there are a few practical considerations that crop up well before the big date.
The first question is where to send him - a question that my parents, like most others any time before the 1990s, never had to face, bringing us up in a small rural township where there was one primary, one intermediate and one high school.
There were a few kids from "the Hill" (Pukekohe Hill!) who caught the bus to different schools around Auckland, but they were a tiny minority.
Now, if you live in urban Auckland, you are angling for, thinking about, and talking about, the "best" school for your child (if not the "best" daycare and kindy) almost ad nauseum from the time the child is still in nappies. A middle class disease, to be sure.
The talk reaches a fever pitch when your child turns four and the big transition seems to be fast approaching.
I have a very minor, unimportant, and probably quite sickening (to many) dilemma to face in choosing where to send our son.
We live in a "good" area of Auckland, with an excellent state school right around the corner. We are lucky.
Add to that my upbringing, which strongly emphasised the importance of public education; and my husband's ambivalence about private education, and you have what you think would be an obvious choice to send our kids to the school next door.
I have found, however, that the decision is not that straightforward.
Having had no chance of ever attending a private school myself, I found myself inexplicably drawn to the prospect for my son.
We visited the most obvious choice for us - a private, Presbyterian primary/intermediate school across town, to get a taste of what it was all about.
The sun was shining, and as we came up to the main sports ground, we found beautifully attired boys playing a game of cricket. The buildings and facilities were stunning, the teachers looked enthusiastic, the pupils engaged.
A small matter of about $20K a year stood in the way of our son partaking in this magnificent option. And I defy anyone at all to say they would not want to send their son to such a school, if money was not an issue.
It is an issue for us - we'd need a mortgage to pay for it - but some might argue this is a debt worth racking up.
My only hesitation was, I confess, the general "whiteness" of the student body. Nothing against being white of course - I am myself - but my children have a generous dolloping of Pakistani blood in them and I wondered if this setting was going to encourage the kind of ethnic mixing that might prepare them better for life in New Zealand as adults.
And then I wondered something else: is a 'multi-cultural' education something that is important for life in New Zealand going forward?
Because going forward, I thought it was entirely possible that my kids, and many others, will not be mixing much with Maori, Polynesian, or South East Asians, say.
Already, we attend a private kindy which is not exclusively, but primarily, Pakeha.
Our state school is also quite "white" because of the area we live in.
We pay for medical insurance, so when necessary we see different medical specialists than those who generally rely on the public system.
New Zealand society in general, especially in cities, is already stratified.
Back in Pukekohe, I ate hangi food and learnt poi and Maori songs in primary school; at intermediate we stayed on a marae every year. We went to school with Maori kids, admired their physical prowess, copied their style. I had Maori colleagues until I went to university, and then - apart from fairly intense mixing with Polynesians at my part-time job through university - my life became rather mono-cultural.
Like most people of my age and general demographic, I embrace the idea of multi-culturalism but have a sneaking suspicion that the way New Zealand society is going will mean it is becoming less of a reality as time moves on.
I can see that most public kindies and schools really attempt to incorporate elements of Maori culture, for example, into their curriculums, but without actual non-Pakeha around, how much influence will it really have?
All pretty heavy questions to be thinking about when one's children are three and four years old, I agree. But the question of which educational (read: aspirational, societal, expectational) track to get them on is a big one for many parents.
Sadly, perhaps, as we like to think we all have pretty much the same opportunities.
With an economy - and frankly, government policy - that seems to be enlarging the gap between the 'haves' and the 'have nots', I wager this will be an issue that continues to bubble in the background of many urban dwellers' lives for a while yet.