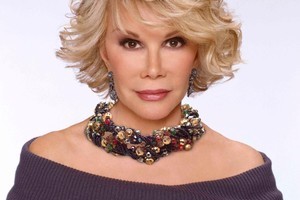 It's normally associated with celebrities and fixtures of the social pages, but cosmetic surgery is finding a new audience among senior citizens.
Discontented with growing old gracefully, grannies and grand dads are taking years off their lives by going under the knife.
Surgeons have reported an increase in the number of patients aged 70-plus.
Women want face, eye and breast lifts and men have moob-jobs and liposuction on their love handles.
New Zealand Association of Plastic Surgeons president Howard Klein reported a steady stream of older customers.
He would consider treating anyone who was medically fit and healthy.
"I don't think age is any sort of preclusion to surgery," he said.
The trend matches developments overseas. United States entertainer Joan Rivers, 77, has had work on her lips, breasts, nose, stomach, eyes and arms and has regular Botox injections. And Italian Prime Minister Silvio Berlusconi, 74, has admitted to having an eyelift.
Auckland clinic consultant cosmetic surgeon Mark Gittos said about 5 per cent of his patients were in the 70-plus age group.
"That demographic has more disposable income than 20 to 30-year-olds."
Others were divorced or widowed and wanted to give their looks a boost before re-entering the dating scene, said Gittos. The majority of older patients were women, many of whom wanted a facelift, at a cost of up to $45,000.
Other popular procedures were eyelifts, which cost $6000 to $10,000, and breast lifts at $12,000 to $15,000.
Men often wanted a reduction of their "moobs" - man boobs - or liposuction on the abdomen and love handles.
But it was important patients had realistic expectations and that the operations were "age appropriate", said Gittos. "You don't want the wind tunnel look, where they look so dramatically younger it's unnatural."
Auckland surgeon John de Waal said he saw a lot of patients in the 70-plus age bracket.
Many had lost a spouse and were looking to "set themselves on a new course", he said.
Facelifts and eyelid surgery were common procedures for both sexes.
His oldest patient was a woman in her early 80s who was "very pleased" with the results of her facelift.
An 80-year-old Tauranga woman, who did not want to be named, went under the knife for the second time last year.
She had work on her face and lower eyes for about $3000, 38 years after her first facelift.
"It's certainly an improvement," she said.
"I'm quite happy with it and my friends said, 'You're looking good'."
She recommended cosmetic surgery to anyone in their later years and said she "can't wait" for her next operation - a neck lift, which she hopes to have this year.