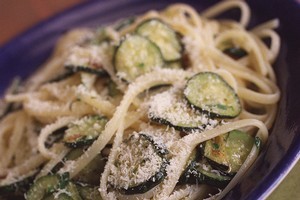 Pasta fantastica
Thinly sliced slivers of buttery or olive-oil fried zucchini, stirred through pasta with peas and plenty of grated cheese feels summery; for a richer autumn taste, use chunks of zucchini, eggplant, mushrooms and tomato, simmered till thick.
Fritter fry up
Grated zucchini with a dash of flour, eggs and plenty of salt and pepper is a tasty light lunch or brunch. Zing up the flavour with grated parmesan, or feta and mint, or corn kernels and finely chopped peppers. Serve with a fresh tomato salsa or your first chutney of the autumn.
Sweet delight
Use zucchini in your favourite apple, carrot or banana muffin or loaf (you may need a little more brown sugar to bring out the caramel flavouring).