Hamish Reid tells Ashley Campbell what his family love about about their neighbourhood.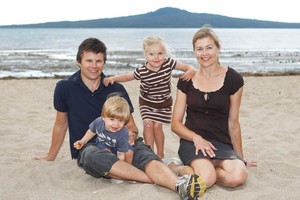 Hamish Reid is the co-founder of Project Litefoot, which works with top sportspeople to inspire New Zealanders to lighten the load we place upon nature. He and his wife Katya, a business analyst, live in Kohimarama with their children Saskia, 3, and Fergus, 1...
After 10 years living in Paris and London Katya and I were looking forward to living close to the sea when we returned to New Zealand. Proximity to the sea is something New Zealanders take for granted - it's a bit like oxygen: you don't really notice it until you're not getting it. We didn't get much seaside time over the past decade so it was an important factor in deciding where we wanted to live.
We also really enjoyed not having to own a car in Europe and while that's not really possible in Auckland, we wanted to live in a place where we could walk or ride bikes to most places.
Kohimarama fitted the bill. Auckland's harbour is its standout asset, and the 10km of Tamaki Drive that allows all people to connect with the harbour was a master stroke of planning.
I would love to see a stretch of it closed to cars on Sunday mornings in favour of bikers, skaters and walkers, in the same way as the road along the edge of the river Seine in Paris is closed on Sunday mornings.
My work is based in Parnell and I love my commute - it's a 7.5km bike ride along Tamaki Drive. With a tail wind it takes a little as 12 minutes - if I were to drive it would take up 25 minutes. It's also a great way to wind down at the end of the day - it's great exercise and it's very satisfying to whizz past the inevitable queue of cars.
I really like the pohutukawa trees. They are so quintessentially New Zealand. I haven't struck anything quite like them in other parts of the world. They evoke a sense of pride in New Zealanders I think, they're ours and they're unique.
Kohimarama is a great place for our children, Saskia and Fergus. At the weekend we're usually on a tour of the playgrounds that starts at St Heliers (with a small deviation for apple turnovers and gingerbread men at the Kohi Bakehouse), followed by Madills Farm, then Mission Bay. When the weather allows, we make sandcastle-building pitstops on the way at all three beaches. We also like stopping at the Kohi Yacht Club to watch the kids sailing Optimists.
Kohimarama has some great cafes within walking distance from home, and on a nice day we can take the kids to the beach and then drop in for a coffee or a meal at one of our locals. The staff are always friendly and if you go often enough, they quickly start calling you by name. The Kohi Fish Shop on Melanesia Rd sells wonderful fresh fish.
Hamish's picks
Calimero, 59 Long Dr, ph 575 7787. Open daily 5pm-10pm. Makes a pretty sensational pizza.
Cafe on Kohi, 2/237 Tamaki Drive, ph 528 8335. Open daily, 7am-4pm. For a great breakfast.
The Store on Kohi, 3 Averill Ave, ph 578 2503. Open daily, 7am-8pm. Does fantastic gelato.
Kohi Fresh Fish & Takeaways, 41 Melanesia Rd, ph 528 4725. Open Sat/Sun 4pm-8pm, Mon-Thu 10:30am-8pm, Fri 10.30am-9pm. For beautifully fresh seafood, and outstanding fish and chips.