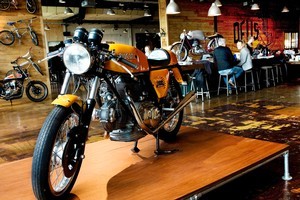 Throughout the Fashion Festival this week, the place to be each night is the Shed Five Speed Shop (also known as Deus Ex Machina) which is situated next door to Shed Six where the evening fashion shows take place. Have a drink and check out the vintage cars, motorcycles and graffiti art.
On Friday, the most fashionable lunch date you could be at is the High St Long Lunch. Twelve top restaurants including O'Connell St Bistro, Merlot, Kitchen and Vivace will be setting up tables down the middle of High St. This will be a fun afternoon, with entertainment and models showing off garments from the surrounding boutiques. For those who can't take the Friday afternoon off, there's the chance to join the action later in the day at Freyberg Square, where a bar will be set up. (To find out more phone 09 354 3951.)
Good home cooking
Shocked after reading most under 30-year-olds don't know how to roast a chicken, award-winning chef Julie Biuso decided it was time to take action.
She will be holding intimate cooking classes in her home. While you enjoy a glass of wine, Julie will host and teach recipes including Best Italian, Easter Feasting, Classic Cooking, Sensational Soups, Sensations Desserts and Midweek Meals. The classes are not just aimed at the novice cook but also those who want to take the stress out of entertaining. Classes run from 1-4pm on Wednesdays and Saturdays through until July. Cost is $125 per session. The next class is "Best Italian" on April 6. To book, email biuso@clear.net.nz with "Cooking Class" in the subject line.
Fancy a cuppa?
Take a break at the Fisher & Paykel "Social Kitchen", situated this week on the corner of Tyler and Gore Streets in Britomart. Special gingernut tea and earl grey biscuits have been created by the Engine Room for visitors to this pop-up design space which shows off the latest in kitchen design and includes stylish seats created by furniture designer Sam Haughton. Until March 26, 10am-4pm daily.
Love it
Just because you're wheat free, gluten free, dairy free, nut free ... doesn't mean you have to miss out sweet treats, thanks to this new Love Cake Truly Decadent cake mix. Free of all artificial colours, flavours and preservatives it creates a rich, dark chocolate cake - irresistible. $11.49 from Farro Fresh, 80 Lunn Ave, Mt Wellington or Constellation Drive, Albany.
Put it on the list!
* Kapiti's Kikorangi award-winning blue cheese - heaven on earth especially with this season's figs and honey. And while you're at it drop into your shopping basket the oh-so-delicious smooth and creamy Kapiti Ramara.
* The handy new snack packs of salmon slices from Southern Ocean. Perfect for lunches and picnics, and full of omega 3. From $7.99 at supermarkets.
* Transform Sunday brunch with Q Garden's Eggplant Kassundi. In fact, transform any dish with this delicious, spicy condiment. Available from select food stores or qgardens.co.nz
Shandelle Battersby: Chocolate treat
The next time you put a piece of chocolate in your mouth, stop to think about the sensation and the taste that ensues. If it's Valrhona chocolate, it has been designed to take you on a smooth journey of several different stages - the Manjari for example has an initially sour taste that moves from red fruits to roasted hazelnuts and almonds. The luxury French chocolate brand is considered by industry professionals as one of the best in the world, and it leaves you with an aftertaste that isn't too sweet or waxy (thanks to the lack of vegetable fats used in its production).
Asia-Pacific brand manager Pierre Tabarie was at Mt Eden's Sabato last week to talk to local chefs and food writers about the practices and uses of the chocolate, which has been made in the French town of Tain-l'Hermitage near Lyon, since the 1920s. They source from top-notch plantations in Madagascar, Venezuela and the Caribbean, and each region produces coca beans that create unique flavours and aromas. The Manjari, from Madagascar, has a 64 per cent cocoa component but tastes completely different from the Caraibe (roasted dried fruit with woody/earthy flavours), made in South America, which has a 66 per cent cocoa content. The Guanaja, also from South America, is made up of 70 per cent cocoa and tastes different again, with notes of roasted coffee and nuts, while their milk chocolate, Jivara, lingers on the palate with malted cereal flavours. The taste of chocolate is also dependent on factors such as the time of day and room temperature and what else you've eaten or had to drink (room-temperature water is best between bites). It seems that to be a serious chocolate buff takes a lot of work. Best start practising at once ...