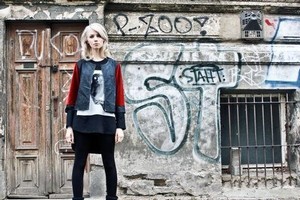 Federation has been commended for its creative take on fashion communication and is the winner of the inaugural James & Wells: Fashion Communication Design Award. The streetwear brand's success was announced at an event at Auckland bar Sale Street on Monday night, which also acted as the opening of a week-long exhibition of the three finalists' work (Federation, Moochi and Cybele), which will run inside the bar during the NZ Fashion Festival until March 27. The award is a collaboration between Fashion Industry New Zealand (FINZ) and James & Wells Intellectual Property, and aims to showcase interesting fashion branding and marketing, recognising the synergy between design and information. Federation won intellectual property services to the value of $5000 and an annual membership to FINZ.
* Sending Messages, Sale St bar, until March 27. Free entry. 7 Sale St, Freemans Bay, City.
Taking the light
Last week at the Melbourne Fashion Festival, Dazed and Confused publisher Jefferson Hack said fashion films were the way of the future for the industry to communicate their visions.
Now local designer James Dobson of the label Jimmy D has collaborated with emerging photographer and film-maker Oliver Rose to create a fashion film. It is Rose's vision of Jimmy D's "Until the Light Takes Us" autumn/winter 2011 collection. The photo, by Tamar Mapper, gives you an idea of the moodiness behind the film, which will screen for the first time on Thursday night at the Children of Vision boutique in St Kevin's Arcade in Auckland. The public are invited to attend from 8pm and the film will début online on Friday morning at jimmyd.co.nz.
* Children of Vision, Shop 16, St. Kevin's Arcade, 179-183 Karangahape Road, City.
DIY jewellery
The High St shopping precinct will be buzzing with activity this week as part of the New Zealand Fashion Festival. Something else to keep an eye out for is an art and jewellery exhibition at underground boutique House of Hedone, featuring works from Ailish Roughan, Debra Fallowfield and Monique Connell, plus in-store jewellery brands like Nick Von K, Culet, Nostalgems, the Monarch Butterfly range, Demonic Intent and Forest Fusion. The theme of the exhibition is Airy Grace, the boudoir - "luxury contrasting with Industrial Abstract patterns and textures". This Saturday from 10am until 5pm, the store will be having a special "coffee and charms" day in collaboration with Nostalgem jewellery designer Rina Ward - come in and have a flat white while creating your own charm bracelet. Ward will be in store from 1-3pm.
* House of Hedone, 5b High St, City, ph (09) 303 3289.
Luscious treats
Lush has given their flagship Queen St location a makeover, opening the new-look store on Monday. To celebrate, the team are offering free pampering treatments to every customer - think facials, massages and hair and skin consultations. Be pampered now at 189 Queen St, City.
Stolen charity
After you attend the Viva show at the NZ Fashion Festival tonight, head along to Stolen Girlfriends Club's fashion show and party, with door proceeds going to the Red Cross Christchurch Earthquake Relief fund. The show/party, which will feature the new spring collection they showed at New World supermarket last week, is at the newly opened Britomart Country Club (31 Galway St). It starts at 9.30pm sharp and DJs People of Paris play afterwards. Tickets $20 on the door.
Crafty help
Get knitting for Christchurch. Glassons is urging crafty types across the country to dig out their needles and make scarves to bring in store, where they will be labelled and sold for $25, with all proceeds going to the Christchurch Mayoral Fund. The chain store had its origins in Christchurch and suffered earthquake damage like many of its customers. Now it has launched a 'Glassons Hearts Chch' campaign and for the launch of its scarf drive it drafted in a host of fashion, entertainment and media celebrities. Join the club and get knitting.
Mix and match
Oops: there was a mix up with the Deborah Sweeney and Starfish printed pants that featured in last week's issue of Viva. The peach and white grid patterned pants were actually the Starfish "Tizzy" pant ($328), and the digital printed pants were the Deborah Sweeney "Prisma" pants ($412).