Fashion designer Emilie Pullar just loves layering. So much so she's looked to Egyptian mummies for design inspiration.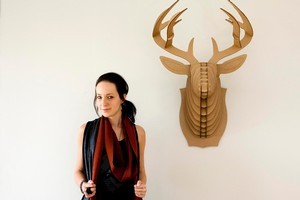 Emilie Pullar is one-half of Maaike, one of the New Zealand fashion industry's newest labels. Launched last year with Abby Van Schreven, the label has a heavy focus on knitwear, with their début winter collection drawing inspiration from Egyptian mummification.
Pullar's own style reflects that of the label: strong, with a darker point of view. "My style is ever-evolving, but anchored with layers, lots of black - and always a great pair of heels." We hear more from the talented young designer.
What are you currently inspired by?
At Maaike we seem to look at things people might not necessarily go to for inspiration. In our last collection we researched Egyptian mummies and the pictures on our mood board, most people would find grotesque. Our latest inspiration is drawn from cobwebs. Not the perfect round shapes covered in morning dew but the dusty dirty ones, torn and broken, as that is what we have found beauty in.
Your favourite shop, locally?
At this stage of my life I don't necessarily have the time or funds to shop but as soon as that changes, definitely Children of Vision - you can always find something clever and unique.
Your favourite shop elsewhere?
My favourite international shopping so far has been in Antwerp. Belgian designers are amazing, and who doesn't like interspersing shopping with waffles?
What's your fragrance?
Chanel's Coco Mademoiselle.
How do you define the word "fashionable"?
I hate that word - to me it means the clones you see on the streets but it should be a word to describe people who have a natural sense of style and edge who dress for themselves, not others.
Is there anything you'd never wear?
Leggings as pants, the pairing of crop-tops and cut-off shorts
Best sartorial advice you ever had?
I actually don't remember getting much advice but if I could pass some on? Never be afraid of being too dressed up and just because you are travelling is no reason to let your dress standards slip.
Most cherished item?
My engagement ring, made for me last year by local designer Cheryl Sills, and a silver medallion that my dad wore all through the 70s.
Favourite fashion moment in film?
I recently saw The Runaways which boasted amazing jumpsuits, platforms and ripped up rock 'n' roll goodness. The best moment was when Cherie Currie sings on stage in Japan in her underwear.
Best way to recycle your old clothes?
I have a relatively short attention span with clothes so end up selling things, giving them away or re-working with a pair of scissors.
Who is your ultimate fashion plate?
Vivienne Westwood. I saw her retrospective at the V&A in London when I was 18 and I think that crystallised my need to study fashion. Her creativity and attitude is awe-inspiring and I love how she doesn't take herself too seriously. When I get stressed I remind myself how lucky I am to be making clothes for a living and that helps keep everything in perspective.