Stylist and creative director Dan Ahwa is the man behind the looks at this week's New Zealand Fashion Festival.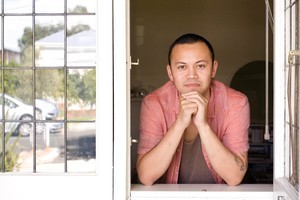 As creative director of this week's New Zealand Fashion Festival, Dan Ahwa decides the look and feel of the nightly fashion shows - from the femininity of tonight's Viva show to Friday night's edgier theme. Alongside his role at the festival, Ahwa works as a stylist - he works closely with the designers behind labels Salasai and Twenty-seven Names, and has styled shoots for a wide range of magazines including Harpers Bazaar, Elle Mexico, Urbis, Fashion Quarterly and Viva. He tells us what inspires his work.
* To buy tickets for the New Zealand Fashion Festival, including the Viva show tonight, go to iticket.co.nz
10 FAVOURITE THINGS
1. Alex Gaidouk photos
I've been following this New York-based photographer for a while now, and I like how all his subjects look isolated.
I ordered two prints from him last year and hopefully I'll get a chance to work with him one day.
2. Horses of Helios statue by Rudy Weller
This horse statue in Piccadilly Circus is alarming, but I like it because the horses look crazy. I try to make a point of visiting it when I'm in London.
3. Visionaire 60: Religion by Riccardo Tisci
I like collecting books and this one is next on the list. Visionaire publish these incredible books in limited runs, with inspiring imagery and no text. This one in particular appeals because religion informs a lot of my work, and I respect Riccardo Tisci's work at Givenchy.
4. Grandma's graduation necklace
My nan sewed this necklace for my graduation in 2008; made from tea leaves and gardenia, it hangs at home as a reminder of that day and what it meant to her for me to finally graduate.
5. Pania on the Reef print
The talented Rakai Karaitiana from House of Aroha in Napier designed this print of Pania on the Reef, and it reminds me of how cool Napier is.
6. Batman wristwatch
I bought this from an antique shop in Paeroa two years ago for $10, and it's still going. The owner of the shop said it was original 1980s Batman merchandise - I tell this story to everyone who comments on it. I'm not sure why but it's a good story to recycle.
7. Studded cross
My friends Carmel and Simon gave this to me for my 24th birthday a couple of years ago. It's unique and something I'll keep as a reminder of all the fun we had when we flatted together in a crooked villa in Kingsland.
8. Portraits de Villes: Los Angeles
Los Angeles and everything I like about the city is summed up in this magazine with photographs by Vincent Mercier, that I bought at Fabric. Again, no words but full of images. It's part of a series called Portraits de Villes, where different artists focus on photographing a city.
9. Sam Hecht table and chair from Simon James
This bench/table/chair by Sam Hecht is clever; I like how the table and chair is combined into one. I'm always sitting on tables, which is probably not a good thing in some cultures, so this would be a good alternative. It's pretty basic, like me.
10. Ralph Lauren 40th Anniversary book
I used to work at Ralph Lauren a few years ago, and ever since then I've been a loyal follower. This book highlights the worlds he has created through his clothes, with every campaign shot by Bruce Weber, from African safaris to American aristocracy in the Hamptons.