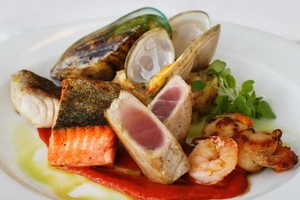 One of the more dependable fishing spots in the Waitemata Harbour is, I am told, directly in front of the Hilton Hotel. So it seemed appropriate to go for the chef's selection of seafood as one of our main courses at White, the hotel's restaurant. When our server ran through the components, I had visions of one of those belly-bending seafood platters. There was snapper, salmon, tuna, prawn, scallops, mussels and clams. But she did point out that this was not as daunting as it sounded and she was right.
Each individual portion was little more than a taster but all treated with the care that a main might deserve, expertly cooked and prettily presented with smears of roast capsicum, roasted onion and chorizo puree providing grace notes that did not distract from the seafood itself.
Assuming that a good proportion of the customers are hotel guests, this dish did establish the showcase of New Zealand food that White sets out to provide. Most of the ingredients are labelled with their origins, from the Pukekohe quail to the Leigh snapper, and the wine list is overwhelmingly Kiwi with the exception of champagnes. Even Aussie reds barely get a look-in.
Our other main course of lamb loin was identified as Hawkes Bay produce and it displayed the quality we like to believe is characteristic. The meat was cooked pink, as requested, and its thyme glaze with peperonata and zucchini confit were well pitched.
This delicacy and restraint is, perhaps, the hallmark of White's style. The double-baked goat's cheese ricotta souffle, which was one of our first courses, had a rare lightness of flavour and texture, which stood up to the roast beetroot and chives.
Although I am addicted to the perilous delights of pork belly, it has become such a cliche on menus I'd not had any for ages. I decided a little starter couldn't hurt. It reminded me why it's so popular, perhaps a shade less crisp-skinned than perfection, but full of flavour and again well-matched with an intriguing spring roll stuffed with piquant shredded braised beef cheek, subtle pickled carrot and a white onion glaze.
We had flagged away any thought of side dishes to leave room for dessert and the portions are by no means overwhelming. So there was plenty of space to accommodate the options.
The evening was a little hot for the warm chocolate pudding with caramelised peaches or the baked cheesecake. But the brandy and raison parfait with a pistachio wafer and fruit passed both the lightness and taste test. My pear and almond flan was ordinary but as a ginger lover I found the ginger icecream a cracker.
We thought we had finished but little complimentary banana muffins and chocolate pastries turned up - nice touch if we hadn't just had a dessert.
In addition to the excellent food White also provides the diner with one of the great Auckland settings overlooking the harbour, or it would if half the view hadn't been obscured by the 90,000 ton oceangoing holiday camp moored next door.
The service, too, boasted a characteristic New Zealand flavour, friendly and helpful if lacking the ultra smooth polish. The main problem with White on our visit, however, was the atmosphere. There wasn't any.
While I'm no great fan of eating cheek-by-jowl with others, there was an anaesthetic effect from the space here which could only be relieved by it being fuller and more lively. This was a pity, for the food is terrific, if a little severe on the wallet, and a fine advertisement for the best we can produce.
Rating out of 10

Food: 8
Service: 8
Value: 7
Ambience: 6

Our meal: $239 for two first courses, two mains, two desserts, five glasses of wine and a beer.

Wine list: Starting with a good Mt Difficulty 09 rosé, we moved on to a Cottage Block 09 chardonnay, Clos Marguerite 08 pinot noir and a delightful Cottage Block Cut Cane pinot gris. All from a good, overwhelmingly New Zealand list.

Verdict: Fine food in a comfortable setting with a great view. A good venue for a special occasion, if lacking in buzz.