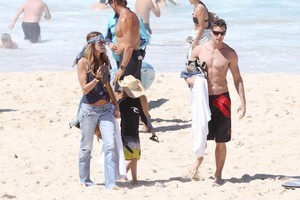 Mike Tanner has a job to turn a bloke green with envy. The Kiwi is "manny" - male nanny - to supermodel Elle Macpherson's sons Flynn, 13, and Cy, eight.
The job called for him to soak up the sun with Elle's family on a Sydney beach during a late summer holiday, while teaching her boys to surf.
His childcare job - not to mention his athletic physique - has led to speculation he and the 47-year-old Australian known as "The Body" may be romantically linked.
Friends of the model scoffed at those suggestions in the British press and Tanner, who started working for Macpherson as her driver, reportedly has a live-in partner in London.
It's not traditionally a man's work but two New Zealand-based childcare agencies said mannying was catching on.
Cecilia Robinson, who runs Au Pair Link, which places live-in child carers here and overseas, said: "It's been a massive trend that's been amping up lately."
Sporty Kiwi men heading overseas were attracted by a job that would allow them to live with a family and teach children to play sport all day.
She said 10 years ago only 5 per cent of her New Zealand clients agreed to accept a male au pair, but now a quarter would be happy with a "manny".
She had 10 male au pairs working in New Zealand homes from Germany, Sweden and America.
"It's a new trend. I've placed more male au pairs in the last three months than in the last five years."
Katie Alder, who runs Tinies Nanny Agency, said solo mothers in particular were keen for their children to have a "father figure".