Kiwi chef Leanne Kitchen's latest cookbook celebrates the many flavours of Turkey, as well as its culinary history.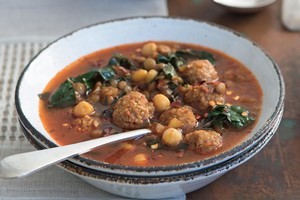 As a country that shares its border with eight nations and with a former empire that spread across Asia Minor, it is little wonder that the food of Turkey evokes such exotic and romantic reactions. There are remnants of ancient Ottoman dishes, simple Anatolian peasant fare, tastes of Greece, Bulgaria, Iran, Iraq and Syria and more. Some of our most ancient foodstuffs - yoghurts, cheeses and preserved meats - spring from there, while fragrances and flavours such as rosewater, saffron or pomegranate are a byword for luxury.
Kiwi chef Leanne Kitchen has worked in food abroad for some 14 years. Armed with a camera, curiosity and a sense of adventure, Leanne has captured amazing images and stories of little-known parts of Turkey and the food that makes each region special. The recipes are mouthwatering, some are challenging to our tastebuds (candied pumpkin or sweet tomatoes as desserts, for example), but all are reasonably simple to make. The variations on kofte and fritters are quick and tasty for lunch or a light supper; a salad of pears and hazelnuts is perfect as the summer draws to a close. The long, slow-cooked lamb dish - six or seven hours with spicy apples and pomegranate molasses - will happily fill a cold winter weekend with bliss, while the fresh fish dishes give you exciting new flavour combinations.
Leanne found Turks love their soups, often having a satisfying lentil soup for breakfast with a crusty bread and finishing their day with one of tripe. This version is finished with a classic boost of lemon, chilli flakes and thick yoghurt.
Lentil, silverbeet and lamb kofte soup
Serves 6
220g (1 cup) dried chickpeas, soaked overnight and drained
60ml (1/4 cup) olive oil
2 onions, finely chopped
3 garlic cloves, crushed
2 Tbs tomato paste
2 Tbs Turkish pepper paste (a thick red paste of chilli and salt, available from some delicatessens)
2 1/2 tsp dried oregano
1 fresh bay leaf
250g (1 1/3 cups) brown lentils
2.25 litres chicken stock
1 bunch silverbeet, trimmed, stems and ribs removed, leaves finely chopped
Lemon wedges, to serve
Greek-style yoghurt, to serve
Dried chilli flakes, to serve
Extra virgin olive oil, to serve
Kofte
90g (1/2 cup) fine burghul (bulgur)
75g (1/2 cup) plain (all-purpose) flour
200g minced (ground) lamb
2 1/2 tsp tomato paste
1/2 tsp ground allspice
1/2 tsp ground cinnamon
1 Put the chickpeas in a saucepan with just enough water to cover. Bring to the boil, then reduce the heat to low and simmer for an hour, or until tender. Drain the chickpeas, cover and reserve.
2 To make the kofte, rinse the burghul and drain, using your hands to squeeze out as much excess liquid as possible. Combine in a food processor with the flour, lamb, tomato paste, allspice and cinnamon; season with sea salt and freshly ground black pepper. Process until the mixture is smooth and elastic.
3 Take scant teaspoonfuls of the mixture at a time and roll into neat balls, using your hands. Place on a baking tray lined with baking paper and refrigerate until needed.
4 Heat the oil in a large saucepan over medium heat. Add the onion and garlic and cook for 5 to 6 minutes, or until softened. Add the tomato paste, pepper paste, oregano and bay leaf and stir for another minute. Add the lentils and chicken stock, bring to the boil, then reduce the heat to low and simmer for 50 minutes, or until the lentils are tender. Add the chickpeas and cook for 3 to 4 minutes, then stir in the silverbeet.
5 Bring the soup back to a gentle simmer and stir in the kofte; cook over low heat for 6 to 7 minutes, or until the silverbeet has wilted and the kofte are cooked through. 6 Season with salt and pepper and serve with the lemon wedges, yoghurt, chilli flakes and optional olive oil.
* Reprinted courtesy of Leanne Kitchen, $85. Published by Murdoch Books, distributed by Allen & Unwin.
Be in to win
Win a copy of Turkey: Recipes and Tales from the Road by Leanne Kitchen.
Email your contact details to life@nzherald.co.nz with "Turkey: Recipes and Tales" in the subject line by Thursday March 24.