Natalie Oldfield, owner of the Dulcie May Kitchen food store in Mt Eden, has lived in neighbouring One Tree Hill Auckland for five years. She tells Libby Nicholson-Moon what she enjoys about the area.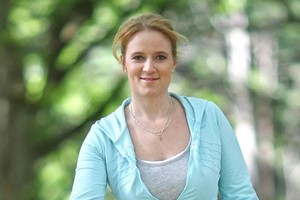 I moved to One Tree Hill with my family, after living in Mt Eden. I love living here as our house is on the corner of a main street and a side street. There are large oak trees surrounding our property, so it remains very private and the native bird life is amazing. There's a dairy nearby, a butcher, and also a new fruit and vege shop which is really handy, and Greenlane Countdown supermarket is just up the road. I've also recently discovered a CCS organic garden in Royal Oak, which is open four days a week - it has amazing seasonal vegetables.
I especially enjoy coming home in the summer to our pool and spa to relax and unwind, and in the evenings during winter, I love sitting in front of our fire in the lounge.
I'm a homebody by nature, so reading the latest magazine after a long day at work is always satisfying for me.
I have a herb garden, as I don't have much time to tend a vegetable garden.
When we moved into our new house, we commissioned landscape gardener Justin Newcombe to create something for us. He's the same guy who writes for Weekend each Saturday with his column, The Back Yard. He did a great job for us. We put in a large pool and rock walls, with our own bar beside the pool, so we could entertain our guests.
Two years ago I opened my food store in Mt Eden, called Dulcie May Kitchen. It's in honour of my grandmother Dulcie May Booker - a remarkable woman. I self-published my first recipe book, Gran's Kitchen, in 2009, and my next book, Gran's Family Table, is due to be in the shops in April, in time for Mother's Day.
Life is pretty busy, but I make sure I take time out for myself most days by visiting one of my favourite places - One Tree Hill. I take my dog Jackson there most evenings and we walk through the part I love the most, which is Twin Oak Drive. I often meet my mum there on Sunday afternoons and we catch up with each other as we walk. Mum works at my food store, but we don't get a lot of time to chat during the day.
My favourite place to shop would have to be Farro Fresh in Mt Wellington. This place always inspires me with different ideas for ingredients, and recipes. I also love bookshops, and can often spend an hour or so just browsing and reading. I am fascinated by anything to do with publishing. I love checking out the paper stock, the layout and design, and the photography, and of course I especially love cookbooks. One of my favorite bookstores is Dymocks in Mt Eden village.
I try as much as possible to catch up with friends - Liquid Molten in Mt Eden is one of my favorite bars to meet people, as they have great food and an extensive wine selection, and the staff are always so accommodating. I also enjoy dining at Gee Gees Bar & Restaurant in Manukau Rd, and One Tree Grill at Greenwoods Corner.
The Lido picture theatre, in Manukau Rd, is my favorite place for movies. I love the plush armchair seating, and being able to take coffee, wine and food into the movie.
My closest girlfriend lives in Mission Bay, which is quite close really, so when I'm over that way, I always pop into The Store on Kohi for their amazing bread, which they make on site.
Natalie's picks
* Gee Gees Bar & Restaurant: 371 Manukau Rd, Epsom, ph (09) 630 9685
* One Tree Grill: Pah Rd, Greenwoods Corner, ph (09) 625 6407
* Farro Fresh Food Ltd: 80 Lunn Ave, Mt Wellington (09) 570 7071
* Dymocks: 476 Mt Eden Rd, ph (09) 658 9345
* CCS Disability Action Community Garden: 14 Erson Ave, Royal Oak. northern.ccsdisabilityaction.org.nz
* The Store on Kohi: 3 Averill Ave, Kohimarama, ph (09) 578 2503
* Liquid Molten: 424 Mt Eden Rd, ph (09) 638 7263