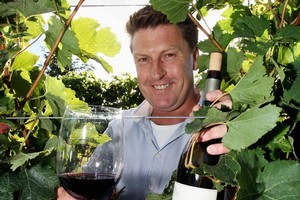 Be in fast if you want to be part of this month's Glengarry fine wine events. On Tuesday 22 March, Hawkes Bay's Te Awa winemaker Ant Mackenzie will be discussing his collaboration with Dr Neill McCallum of Marlborough's Dry River to create the Kidnapper Cliffs premium wine range which gets its name from the luxury lodges Cape Kidnappers and Kauri Cliffs. Following Ant Mackenzie's tasting there will be a three-course dinner as the "wines are very European and best enjoyed with food". Tasting $25/dinner $75, Dida's Victoria Park.
Meanwhile, on Tuesday 29 March, there is the opportunity to take part in a five-course dinner with Trinity Hill's winemaker John Hancock from Hawkes Bay and Jean-Luc Soty, the winemaker from the house of Pascal Jolivet - a young, progressive vineyard from the Loire Valley. $70. To book, ph 0800 733 505. For more info, go to glengarry.co.nz
The best in the world
It's true. Me'a Kai: The Food and Flavours of the South Pacific written by chef Robert Oliver and published by Random House has been named Best Cookbook in the World for 2010 at the Gourmand World Cookbook Awards in Paris. Tres bon!
Divine intervention
With a name like Divinity one can only expect the best and that's exactly what olive growers Michael and Leanne Chinnery have created from their Mangawhai olive grove. The first trees were planted in 2002 and in 2009 their premium extra virgin olive oil won gold in Los Angeles. Since then they have won many medals both here and abroad. Not resting on their laurels, however, this enterprising couple have also created a delicious pomegranate balsamic vinegar which is all you need to drizzle over a salad or, they suggest, drizzle over poached fuit and ice cream or add to sauces, stews and vegetables. Oil $21, vinegar $24.99, from Nosh.
Southern salami
Vegetarians look away now. One of the scrummiest treats to come across the Viva desk lately is the Blackball Salami range from Blackball on the West Coast of the South Island. Using 100 per cent lean meats there's the delicious beef and pork salami which is manuka smoked and naturally cured, a whole host of sausages including smoked Hungarian, pork and pineapple and chorizo Spanish, plus biersticks, black pudding, haggis and bacon. It's all MSG and gluten free. Find the whole range at specialty stores, supermarkets or blackballsalami.co.nz
Pick of the menu
Viva's favourite dishes around town
* The linguini marinara at Prego on Ponsonby Rd. Light, delicious and flavoursome with a generous serving of fish, prawns, cockles and mussels.
* The bluff oysters at Soul down on the Viaduct. Perfect, washed down with a glass of bubbles.
* The smoked fish platter at Bennett's cafe, Mangawhai. Sit in the sunny courtyard, nibble on the fish, hummus, olives and breads and work your way through the wine list. The perfect afternoon.