Herald Rating: 4/5
Address: Cnr Blake and Prosford Sts, Herne Bay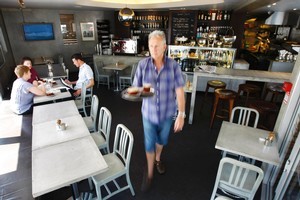 We came here because I'd walked past and liked the idea of dining alfresco under the awning. Which is what we did.
Parking was abundant on Prosford St, although we couldn't convince the old dog lying in the gutter to move. So we went a bit further up the road.
We walked in and immediately thought this little corner cafe feels like a great "local", sophisticated, cosy and tucked away behind busy Jervois Rd.
The most unusual thing on the menu was the Toulouse sausages, borlotti beans and roast field mushrooms ($17).
We ordered the eggs benedict with bacon ($17.50), and the eggs florentine ($20). Both meals looked divine, piled on to thick slices of crisp brioche and garnished with fresh herbs. The benedict had a light, lemony hollandaise, as did the florentine, which came with spinach, tomato, tasty portobello mushroom and coriander. Faultless. If only I could have finished it.
The service was personal, thanks to the cafe's owners. Maitre d' Andre was charming, cranking up the stereo when his favourite song came on, even though it was Tina Turner, who, he explained he'd seen in concert "a long time ago". The banter continued when he came to take our order. Chef Shelley delivered the meal.
The coffee was a smooth blend. Not the punchiest caffeine hit, so I had two.
We recommend if you come here ask for a side of hash - you won't get one (they serve mash or sauteed potato) - but you might get a naughty joke. Also, the lunch menu looks delicious.
Overall we thought the food here is a bit on the pricey side - it is Herne Bay, after all - but you get what you pay for.