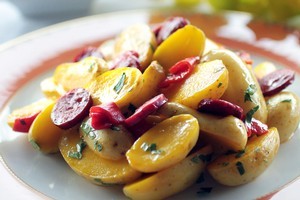 Autumn salads
Add substance to the summer barbecue salad with grilled chorizo or spicy sausage, crispy bacon, stir-fried prawns or smoked salmon. Toss with with wilted greens, feta or capers and an extra tangy dressing.
Soup suppers
Potatoes simmered in a good chicken stock with celeriac, leek or fennel, then blended till smooth make a great late summer supper. Garnish with fried sage or beef up into a chowder with corn kernels and flakes of smoked fish.
Nostalgia pies
There's nothing like creamy mashed spuds - with or without garlic or cream - topping old-fashioned dinners like fish pie or shepherds pie. Or mix leftover mash with cabbage, minced cold meat or fish and shape into patties for old-school rissoles.