Don is the editor of Thirst magazine.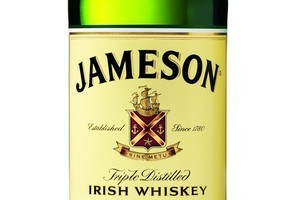 I looked at the calendar the other day and was shocked to see that it's almost St Patrick's Day.
This is good news, of course, because there is nothing an Irishman likes better than an excuse to go out and enjoy the hurly-burly of bar life, while being assailed by cod-Irish accents, unfunny jokes and requests to sing Irish songs such as Dirty Old Town, a ditty written by a Scotsman about a place in England.
But despite all that, March 17 is a good time to sit down and think about Ireland's greatest gift to the world. No, I don't mean Andrea Corr, I mean Irish whiskey.
The Irish may well have invented whiskey. Certainly Bushmills can lay claim to being the oldest existing distillery in the world, having been licensed since 1608. No one is sure whether it was invented in Ireland, but the Irish version (spelt with an e before the y) is charming its way back into people's hearts, if the sales figures are anything to go by.
Less obviously sweet than bourbon and less smoky than scotch, Irish whiskey is really the juice of barley. It has a lovely roundness to it and an approachable sweetness.
There are several varieties available, but it pays to be canny and read the small print. Pot-still whiskey is a much more flavoursome style, from its production in smaller copper pot stills. Many Irish whiskeys have a portion of pot-still whiskey in them, but to get the real effect, hunt out Redbreast, one of the best examples available.
Jameson, RRP 700ml $48.95
Golden in colour, with a warm caramel nose that leads on to sweet barley notes on the palate. Ripe, robust and perfectly weighted, the ultimate introduction to Irish whiskey and a reliable classic that should be a fixture in every bar in the world.
Bushmills Black Bush, RRP 700ml $57.99
A 50-50 blend of Bushmills whiskey with its single malt version, which makes this a unique and brilliant drop. Dark and rich on the nose, with fruit and spice throughout, the warmth and clarity of flavour would bring a tear to a glass eye.