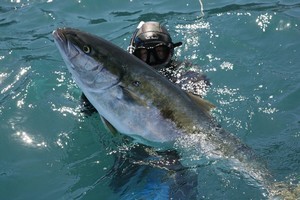 The blue water sparkled like a lake lying in a sheltered basin in the hills. But this was not a benign body of fresh water; it was the edge of the Tasman Sea on the north-west corner of the North Island, a place where fierce currents collide and big fish roam the reefs.
It is the sort of place where you think twice about taking a 6m runabout, the sort of country where an angler expects to tangle with 30kg kingfish or 10kg snapper on tough tackle.
But on this day in mid-February you could have rowed a dinghy off the sand at the top end of 90-Mile Beach
Derek Bergman has spent many years probing the coast all around the top of Northland, but he does it in a special way. A strong rod and line is not for him. He jumps into the water and takes on the fish in their own element. And he does it while holding his breath. Then he swims slowly down as far as 20m and glides around the rocks and weed. His legs pump extra long flippers which propel him through the water and all movements are slow and rhythmic to conserve oxygen.
Even his wetsuit matches the undersea terrain.
Derek loves the challenge of extreme spearfishing, as the sport is described. Big kingfish are the main quarry, but he is also planning a trip to target marlin.
"We come across big snapper occasionally, and Solly (his diving mate, Solly Vallis) got a 9kg one at Cape Brett the other day," said Derek. That snapper was sleeping in a patch of kelp, with just its tail showing as Solly came around a rock. So he gently parted the weed until he saw the head and placed his spear against it. Unlike most anglers the spearo's, as they affectionately call themselves, select individual fish, taking only what they want to eat.
Popular table fish include tarakihi and john dory, but they also see and occasionally shoot fish which those sitting above in boats never get to see because they are weed-eaters and won't take a bait. Fish like butterfish, red moki and drummer.
But today Derek wanted a big king, and after his first dive at Cape Maria van Diemen, which is a 15-minute run up the coast from the top of 90-Mile Beach where the boat was launched after driving down the Te Paki Stream bed, he surfaced with a triumphant shout. Then he hoisted the head of a large kingfish out of the water.
"There is a huge school down there! Maybe 200 fish," he yelled.
Our job was to follow the divers in the water, so dropping a jig or bait was out of the question - but it was tempting. Our turn would come.
We pulled the gleaming green and yellow torpedo over the stern and dropped it into a large bin filled with salt ice.
Derek's kingfish was about 30kg, but his record is 43.6kg (96 pounds), a monster he speared at the Three Kings Islands, 60km north of North Cape. Most people visit the Kings in 20m launches, but Derek used to take his 4.6m tinny. "We got some strange comments from other boaties, but we would only go on a good day," he said.
These guys are good with the spear gun, for if you don't hit the king in a vital spot it will give you a serious run around under water. The spine and head are the favourite targets, and as kings are curious and unafraid of divers the hunter can get close.
But the boat driver is equally important, for strong currents can sweep the divers away, and the boat must follow them. It is not hard, for unlike scuba divers they surface every few minutes, and they also tow a bright red marker buoy sporting a flag on the end of a 30m rope. The reason the buoy is so far behind is two-fold. The loose line allows the diver to dive deep and it also keeps his catch, which is often tethered to the buoy, well away.
For where there are currents and abundant fish life you will also find sharks, and a couple of bleeding fish tied to a line are a pretty good attractant. With the kingfish on ice Derek and Solly turned their attention to nabbing a couple of crayfish for dinner. Then we motored to Derek's paua spot and added those to the menu. On the way home he stopped at his special mussel spot where he filled a catch bag with "the biggest mussels you will find". The bag only held a dozen.
Derek Bergman and Solly Vallis love extreme adventures, both under the water and in the air. Solly has over 10,000 sky-diving jumps to his credit, and flew in a wing-suit from one side of the Northland coast to the other on one jump while filming it for Red Bull. But that is another story.